Steel Fab 2013 and built-in variable frequency drives from V&T EcoDriveCN® drives
January 2, 2013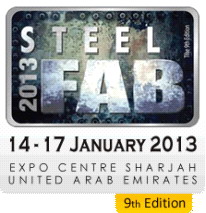 the customers will attend Steel Fab 2013 in Sharjah, UAE which will be held during January 14 - 17, 2013.
Welcome to visit our customers on
Steel Fab 2013
:
Herr Industry System AG
Jiangyin Flourish International Trade Co Ltd
Shanghai Clover CNC Machinery Co Ltd
ACL Machine Group
King Jime Machine Co. Ltd.
Wuxi Huake Special Steel Co., Ltd
Shandong Fin CNC machine Co., Ltd.
On SteelFab 2013, our customers will show their latest products with built-in superior quality
variable frequency drives, servo drives
from
V&T Technologies Co., Ltd.
In Middle East and Africa, SteelFab provides a complete range of machinery & equipment in
metal forming, welding & cutting, surface preparation & finishing, grinding & cutting, machining & other allied engineering disciplines
.