medium voltage 10KV solid state motor soft starters

As the premier & reputed brand of drives, power & controls solution, V&T EcoDriveCN® drives supply medium voltage 10KV motor soft starters.
As a leading and recognized supplier of drive, automation & power, V&T EcoDriveCN® medium voltage motor soft starters provide a complete range of motor and system protection features and have been designed for reliable performance in the most demanding industrial installation situations.
Advanced algorithms of V&T EcoDriveCN® solid state motor soft starters ensure ultra-smooth starting and stopping, and fully adjustable protection features maximize electrical and mechanical protection for your motor and system.
Providing more sophisticated control, V&T EcoDriveCN® medium voltage motor soft starters include many standard features that make it suitable for tough applications, including soft start control for smooth starting and reduced in-rush.
Compact, modular design.


Reduce torque shock damage.


Heavy duty design up to 50°C ambient rated.


Control of the current ramp during start-up.


Fully rated bypass contactor for increased thermal capacity and optional across-the-line starting.


Unique starting and stopping characteristics.


Increase motor and drive train reliability.


Limit starting kVA.


Comprehensive protection settings to ensure safe operation of the motor and the load.


Engineered to industry standards CE and CCC.


User friendly configuration and operation.


As an ideal solution for medium voltage motor applications, V&T EcoDriveCN® medium voltage motor soft starter is a reliable, heavy duty one. Sophisticated digital motor control ensures smooth acceleration and deceleration as it minimizes the effect of high in-rush current and mechanical torque shock.
Typical applications of V&T EcoDriveCN® medium voltage motor soft starters:
Turbo blowers, sinter fans, centrifugal blowers, blast furnace blowers, wind-tunnel drive, gas compressors, turbo compressors, screw compressors, pipeline compressors, cryogenic compressors, centrifugal compressors, reciprocating compressors, high pressure injection pumps, sag mills, ball mill system.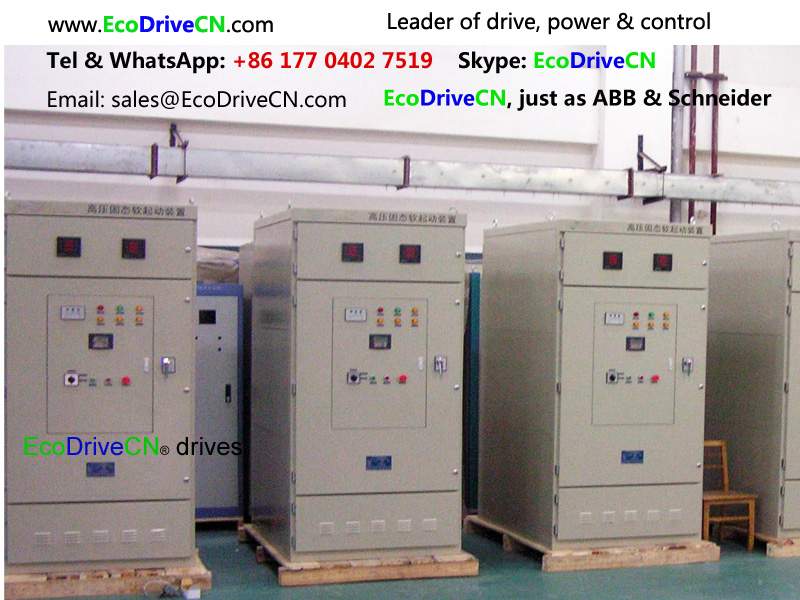 Visit
V&T EcoDriveCN® drives
Frequenzumrichter, variador de frecuencia, inversores de frequencia, Biến Tần, frekvencoregulilo, variateur de vitesse électrique, 可変電圧可変周波数制御, 가변 전압 가변 주파수 제어, frequentieregelaar, частотно-управляемый привод, ЧУП, inversor, frekvenčni pretvornik, Частотно-регульований привод, درایو فرکانس‌متغیر, محول تردد, மாறு-அதிர்வெண் ஓட்டி, micro drive, inverter drive, AC motor drives.
Photo Gallery |CE certificate |Superb components
© 2016 V&T All rights reserved.
Our Expertise Is Your Guarantee!
Reliable supplier of drive, control & power: 200V, 208V, 220V, 230V, 240V, 380V, 400V, 415V, 420V, 440V, 460V, 480V, 500V, 525V, 550V, 575V, 600V, 660V, 690V, 700V, 800V, 900V, 1000V, 1100V, 1140V, 1200V, 1300V, 2.3kV, 3kV, 3.3kV, 4.16kV, 5kV, 6kV, 6.6kV, 7.2kV, 10kV, 11kV, 13.8kV.