three phase 200V, 208V, 220V, 230V, 240V vector control adjustable frequency drives (AFD, AC drives)
V&T EcoDriveCN® 3 phase 230VAC vector control AC adjustable speed drives are suitable for general-purpose applications that involve AC motor, have full of operation functions.
Built-in variable digital/analog input functions to suit a wide array of needs. Compact design, modular structure, easy to install and convenient to humanity operating features.
Voltage: 3ph, 200-240V


Applicable motor rating: 0.4 kw ~ 132 kw (1/2 HP ~ 175 HP)


Frequency: 50/60Hz


V/Hz control, sensorless flux vector control, dynamic torque vector control


150% overload for 1 minute


Starting torque, heavy duty: 180% at 0.5 Hz (open loop), 180% at 0.0 Hz (closed loop)


Integral 1-channel or 2-channel on-board RS485 communications port, Profibus DP and CANopen optional


Built-in PID for close loop control mode


Improved pressure, flow, and motion control, rapid response according to load's change


Reduced energy consumption


Built in braking unit


Built-in or external braking transistor allows connection of external braking resistor for applications that require dynamic braking


Quick and easy commissioning


Rich protection features, such as overload, over-temperature, over-current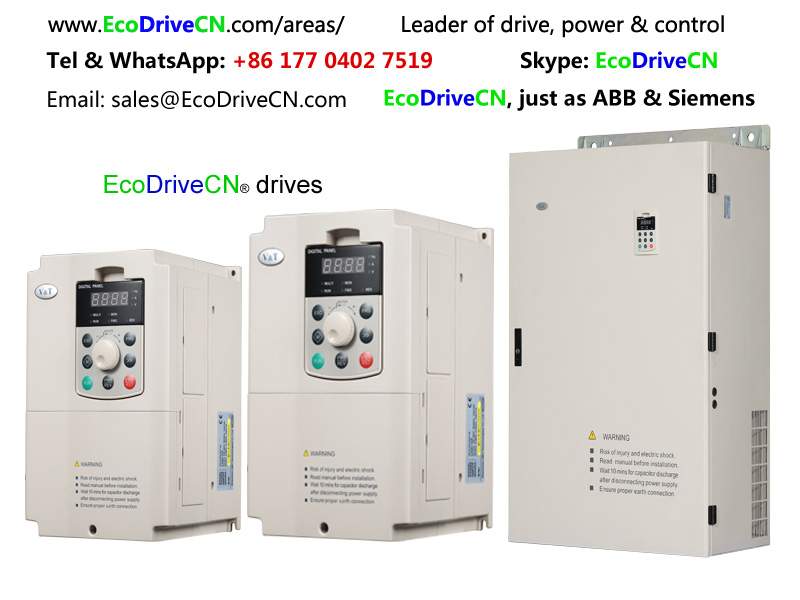 Application of V&T EcoDriveCN® 3 phase 230VAC AC variable speed drives: pumps, fans, CNC, machine tools, packaging machinery, food machinery, textile machinery, centrifuge, engraving machines, cutting machines, conveyor, home industry, energy saving.
Visit
V&T EcoDriveCN® drives
Frequenzumrichter, variador de frecuencia, inversores de frequencia, Biến Tần, frekvencoregulilo, variateur de vitesse électrique, 可変電圧可変周波数制御, 가변 전압 가변 주파수 제어, frequentieregelaar, частотно-управляемый привод, ЧУП, inversor, frekvenčni pretvornik, Частотно-регульований привод, درایو فرکانس‌متغیر, محول تردد, மாறு-அதிர்வெண் ஓட்டி, micro drive, inverter drive, AC motor drives.
Photo Gallery |CE certificate |Superb components
© 2016 V&T All rights reserved.
Our Expertise Is Your Guarantee!
Reliable supplier of drive, control & power: 200V, 208V, 220V, 230V, 240V, 380V, 400V, 415V, 420V, 440V, 460V, 480V, 500V, 525V, 550V, 575V, 600V, 660V, 690V, 700V, 800V, 900V, 1000V, 1100V, 1140V, 1200V, 1300V, 2.3kV, 3kV, 3.3kV, 4.16kV, 5kV, 6kV, 6.6kV, 7.2kV, 10kV, 11kV, 13.8kV.