four quadrant energy feedback frequency inverter (regen VFD)
As the reliable and professional manufacture and supplier of drives, power & controls solution, V&T EcoDriveCN® drives have built an excellent reputation in the industrial automation market for the AC motor drive technology and continuous innovation, provide four-quadrant regenerative AC motor controllers.
Together with V&T EcoDriveCN® drives, through advancements in drive technology, careful selection of the hardware and power system configuration, and intelligent motor control strategies, improved operating performance, control capability and energy savings are perfectly achieved.
Application of V&T EcoDriveCN® regen drives (energy feedback frequency inverters): overhauling loads, high inertia loads, machines requiring rapid deceleration, flywheels, punch presses, vacuum pumps, heavy loaded conveyors (mining), hydraulic pumps, electric submersible pumps (ESP), pump jacks, drums (kilns), locomotives, cranes and hoists, elevators, stamping machines, die casting machines, extrusion presses, injection molding machines, centrifugal loads, webs (converting).
Modular design, easy operation and maintenance, simplified installation


V/F control, dynamic flux vector control


Rectifier/feedback unit


Power factor close to 1


Regenerative feedback(4-quadrant)


Line regeneration, low harmonics, sine wave current


Line voltage fluctuation compensation


Communication: Modbus, Profibus DP, CANopen


high-speed fiber-optic interface


Rich protection functions


Engineered to industry standard standards CE, IEC, ISO and CCC


Prompt recovery while power failure due to storms or generation and transmission problems


Quick dynamic response, no sudden drops or jerky movements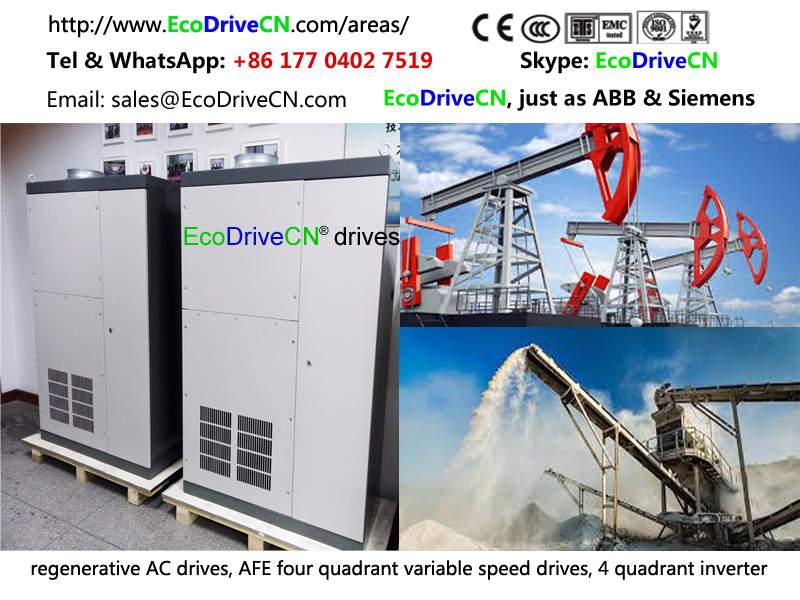 Reasons for using V&T EcoDriveCN® regenerative AC variable frequency drive inverters:
Fast or controlled decelerating loads, such as large rolls or centrifuges.


Energy recovery in high-duty-cycle applications and applications with continuous regeneration, such as unwinders.


Visit
V&T EcoDriveCN® drives
Frequenzumrichter, variador de frecuencia, inversores de frequencia, Biến Tần, frekvencoregulilo, variateur de vitesse électrique, 可変電圧可変周波数制御, 가변 전압 가변 주파수 제어, frequentieregelaar, частотно-управляемый привод, ЧУП, inversor, frekvenčni pretvornik, Частотно-регульований привод, درایو فرکانس‌متغیر, محول تردد, மாறு-அதிர்வெண் ஓட்டி, micro drive, inverter drive, AC motor drives.
Photo Gallery |CE certificate |Superb components
© 2016 V&T All rights reserved.
Our Expertise Is Your Guarantee!
Reliable supplier of drive, control & power: 200V, 208V, 220V, 230V, 240V, 380V, 400V, 415V, 420V, 440V, 460V, 480V, 500V, 525V, 550V, 575V, 600V, 660V, 690V, 700V, 800V, 900V, 1000V, 1100V, 1140V, 1200V, 1300V, 2.3kV, 3kV, 3.3kV, 4.16kV, 5kV, 6kV, 6.6kV, 7.2kV, 10kV, 11kV, 13.8kV.