900V, 950V, 1000V, 1050V, 1100V, 1140V, 1200V, 1300 vector control AC VSD drives
As one of the most trusted brands in drives, power and industrial automation, V&T EcoDriveCN® drives provide world-class solutions to a wide range of applications and industries, especially in the mine sector.
For example, the typical usage of 1100V (900VAC ~ 1300VAC) VFD drive from V&T EcoDriveCN® drives is to control the speed of a ventilation fan in some section of an underground mine or a constant pressure water pumping system or a de-watering pump (for example, remove waste water from a mine).
Outstanding features:
Voltage range: 900VAC, 950VAC, 1000VAC, 1050VAC, 1100VAC, 1140V, 1200VAC, 1300VAC


Volts per Hertz, sensorless dynamic torque vector control


Output frequency: 0.01 to 300Hz for heavy duty


Overload Rating: 150% for 60seconds, higher overloads on request.


Starting torque, heavy duty: 180% at 0.5 Hz (open loop)


Altitude: 0 – 1000m (2000m)


Simple to program & setup with a plain display & menu


Greater protection for the motor, load & installation


Internal PID control for automatic process control


torque maximisation for greater motor torque at low speeds


Synchronise or restart into a rotating load


Soft start capability


Improved pressure, flow, and motion control


Reduced energy consumption


Built-in or external braking transistor allows connection of external braking resistor for applications that require dynamic braking


Quick and easy commissioning


Modular construction allowing ease of maintenance


Integrated motor overload protection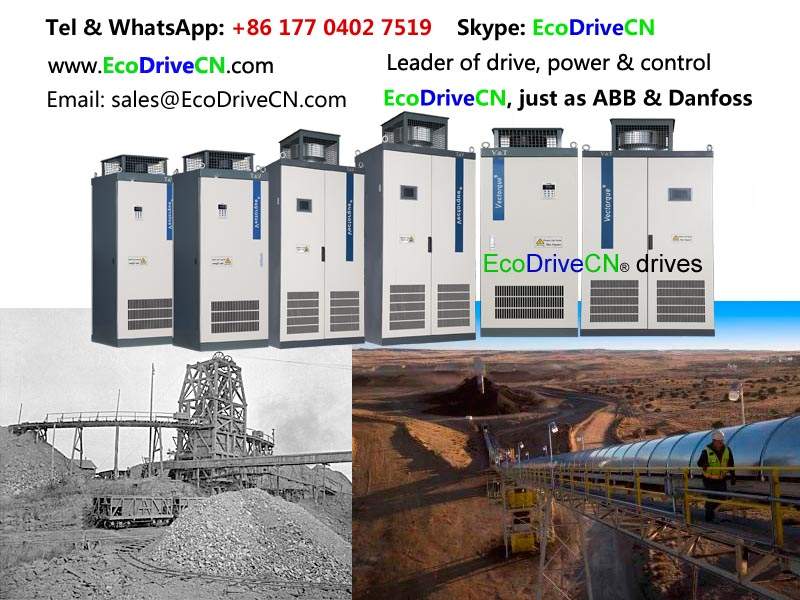 Various machines rely on high performance drives from V&T EcoDriveCN® drives for optimum speed control and power including conveyors, pumps, fans, submersible pump, variable speed control of shearer traction, continuous miners, bolter miners, griding mills, hoists, underground dust ventilation, de-watering pump.
As the leader with drive, power & control solution, V&T EcoDriveCN® drives specialise in the research, development and manufacturing of electronic motor control equipment. V&T EcoDriveCN® AC variable speed drives and motor soft starters are used in a broad range of applications including mining, pumping, fans, food & beverage, water & sewerage, and HVAC.
Visit
V&T EcoDriveCN® drives
Frequenzumrichter, variador de frecuencia, inversores de frequencia, Biến Tần, frekvencoregulilo, variateur de vitesse électrique, 可変電圧可変周波数制御, 가변 전압 가변 주파수 제어, frequentieregelaar, частотно-управляемый привод, ЧУП, inversor, frekvenčni pretvornik, Частотно-регульований привод, درایو فرکانس‌متغیر, محول تردد, மாறு-அதிர்வெண் ஓட்டி, micro drive, inverter drive, AC motor drives.
Photo Gallery |CE certificate |Superb components
© 2016 V&T All rights reserved.
Our Expertise Is Your Guarantee!
Reliable supplier of drive, control & power: 200V, 208V, 220V, 230V, 240V, 380V, 400V, 415V, 420V, 440V, 460V, 480V, 500V, 525V, 550V, 575V, 600V, 660V, 690V, 700V, 800V, 900V, 1000V, 1100V, 1140V, 1200V, 1300V, 2.3kV, 3kV, 3.3kV, 4.16kV, 5kV, 6kV, 6.6kV, 7.2kV, 10kV, 11kV, 13.8kV.