Active Front End (AFE), Active Infeed: energy regeneration and low harmonic
V&T EcoDriveCN® Active Front End (AFE) is a controllable rectifier with advantages such as providing bidirectional power exchange between AC and DC power and regenerating reusable power to the mains to reduce the cost of power, a fully regenerative combination of a Pulse-Width Modulated IGBT inverter with a clean power filter.
V&T EcoDriveCN® active front end AC drives are used to replace traditional brake resistors in AC variable speed drives to convert regenerative energy (excess heat) into reusable electricity.
Using V&T EcoDriveCN® AFE variable frequency drive, more than 95% of the energy is regenerated and supplied back to the mains, delivering clear energy savings.
Using V&T EcoDriveCN® Active Front End, AFE, Active Infeed, you get the following benefits:
Simple operation, quick commission and installation


Perfrect line disturbance/conditions


Low harmonic, clean power


Stable operation of motor on weak power supply systems with fluctuating voltage and frequency


Energy saving: energy regeneration to the line supply, or to the common DC bus


Will not interfere with sensitive equipment


Maintains unity power factor


V&T EcoDriveCN® drives utilize the latest microprocessor and power semiconductor technology to provide the industry with economical, compact and highly flexible active front end (AFE, Active Infeed) drive packages.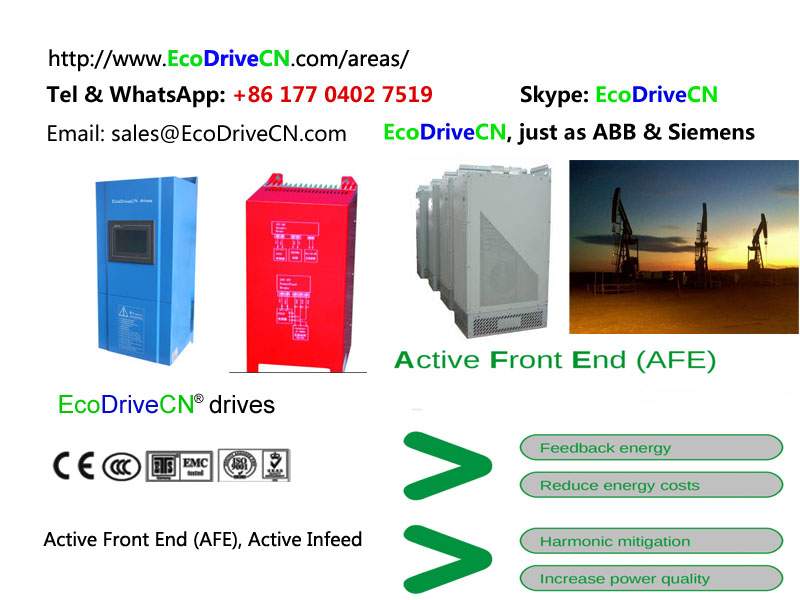 V&T EcoDriveCN® Active Front End (AFE, Active Infeed) is an option for Ac frequency inverters (VSDs, VFDs) to return energy to the line supply. It provides 4-quadrant operation and reduces the total current distortion factor THD(i).
Application: crane and lift applications (hoists, long travel motion), downhill conveyors, winches, elevators, escalators, complex drive systems, test benches and high dynamic drives, pump/turbine combinations, low harmonic drives, machine tools, bag making machines, auto storage and retrieval systems, oil extraction machinery, and lathes.
Visit
V&T EcoDriveCN® drives
Frequenzumrichter, variador de frecuencia, inversores de frequencia, Biến Tần, frekvencoregulilo, variateur de vitesse électrique, 可変電圧可変周波数制御, 가변 전압 가변 주파수 제어, frequentieregelaar, частотно-управляемый привод, ЧУП, inversor, frekvenčni pretvornik, Частотно-регульований привод, درایو فرکانس‌متغیر, محول تردد, மாறு-அதிர்வெண் ஓட்டி, micro drive, inverter drive, AC motor drives.
Photo Gallery |CE certificate |Superb components
© 2016 V&T All rights reserved.
Our Expertise Is Your Guarantee!
Reliable supplier of drive, control & power: 200V, 208V, 220V, 230V, 240V, 380V, 400V, 415V, 420V, 440V, 460V, 480V, 500V, 525V, 550V, 575V, 600V, 660V, 690V, 700V, 800V, 900V, 1000V, 1100V, 1140V, 1200V, 1300V, 2.3kV, 3kV, 3.3kV, 4.16kV, 5kV, 6kV, 6.6kV, 7.2kV, 10kV, 11kV, 13.8kV.