EMI filters, RFI filters
V&T EcoDriveCN® EMI and RFI filters are available in single phase and three phase, 50/60 Hz.
V&T EcoDriveCN® EMI filters and RFI filters offer an economical solution to many facility interference problems caused by the high frequency emissions of variable speed motor drives and inverters.
V&T EcoDriveCN® EMI and RFI filters can prevent drives and inverters from interfering with other sensitive electronic loads by reducing both common mode and differential mode noise emissions.
Typical drive and inverter applications include AC motor drives, DC motor drives, uninterruptible power supplies (UPS), active harmonic filters, battery chargers, electronic welders.
Typical V&T EcoDriveCN® EMI and RFI filter applications include:
UPS


Secondary power supply lines for digital audio video and communications equipment


MRIs and X-Ray equipment


Industrial machine tools


Printers


Hard disk drives


Heavy duty industrial equipment


AC adapters


Electronic musical instruments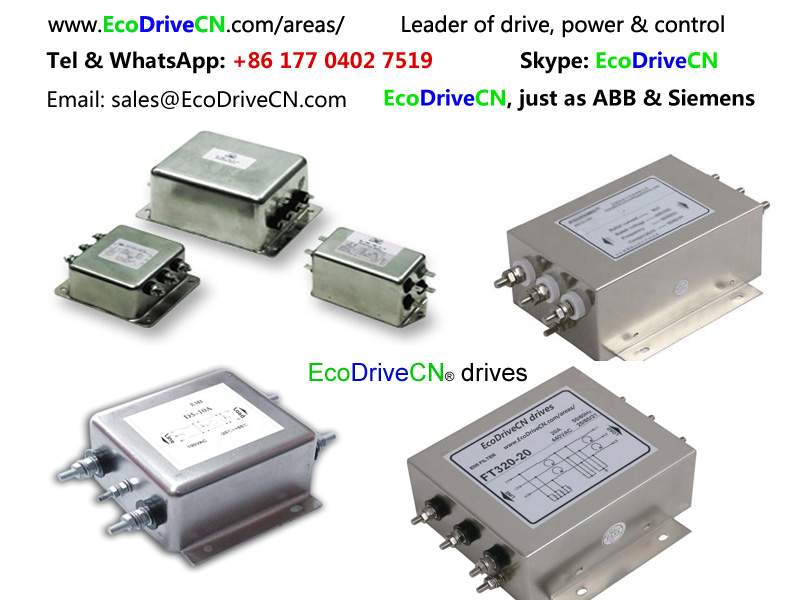 V&T EcoDriveCN® EMI and RFI power line filters protect sensitive electronic circuits in equipment from extraneous surges, spikes, ESD and interference in the environment. V&T EcoDriveCN® EMI filters and RFI filters are used to bring electrical and electronic products into compliance with FCC and EMC standards, such as CE, VDE and more.
Visit
V&T EcoDriveCN® drives
Frequenzumrichter, variador de frecuencia, inversores de frequencia, Biến Tần, frekvencoregulilo, variateur de vitesse électrique, 可変電圧可変周波数制御, 가변 전압 가변 주파수 제어, frequentieregelaar, частотно-управляемый привод, ЧУП, inversor, frekvenčni pretvornik, Частотно-регульований привод, درایو فرکانس‌متغیر, محول تردد, மாறு-அதிர்வெண் ஓட்டி, micro drive, inverter drive, AC motor drives.
Photo Gallery |CE certificate |Superb components
© 2016 V&T All rights reserved.
Our Expertise Is Your Guarantee!
Reliable supplier of drive, control & power: 200V, 208V, 220V, 230V, 240V, 380V, 400V, 415V, 420V, 440V, 460V, 480V, 500V, 525V, 550V, 575V, 600V, 660V, 690V, 700V, 800V, 900V, 1000V, 1100V, 1140V, 1200V, 1300V, 2.3kV, 3kV, 3.3kV, 4.16kV, 5kV, 6kV, 6.6kV, 7.2kV, 10kV, 11kV, 13.8kV.