V&T EcoDriveCN® drives: Top 10 brands of drives & controls in Asia!

AC drives (variable frequency drives, VFD, frequency inverters): 200 V ~ 1140 V, 0.4 KW ~ 3550 KW (1/2 HP ~ 4735 HP);
low voltage and medium voltage motor soft starters: 200VAC ~ 15K VAC, 5KW ~ 20MW
.
Email: Asia#EcoDriveCN.com (Please replace # with @)
V&T EcoDriveCN® drives are driven by a passion to develop, manufacture and sell the best motor soft starters, AC drives, inverters, servo & other power electronics (braking resistors, EMI filters, AC/DC reactors, motor chokes...) in the world, and provide customers with efficient product lifecycle services.
Visit more
V&T EcoDriveCN® drives
As the leader in Asia of drives & controls, V&T EcoDriveCN® drives offer optimum process control, industrial automation and energy efficiency for different industries applications.
V&T EcoDriveCN® low voltage and medium voltage motor soft starter is available in a single user friendly package and makes the motor control simple, just the same as other suppliers, such as ABB, Siemens, Schneider Electric, Rockwell Automation Allen-Bradley, Danfoss!
With a wide range of products to choose from, clients can be assured that V&T EcoDriveCN® drives will always be able to assist them. From one of the best AC variable frequency drives (VSD, VFD) available today to one of the most reliable range and the most cost-effective motor soft starters, V&T EcoDriveCN® drives are able to provide the best, most cost-effective solutions for all your power electronic needs.
V&T EcoDriveCN® drives in Asia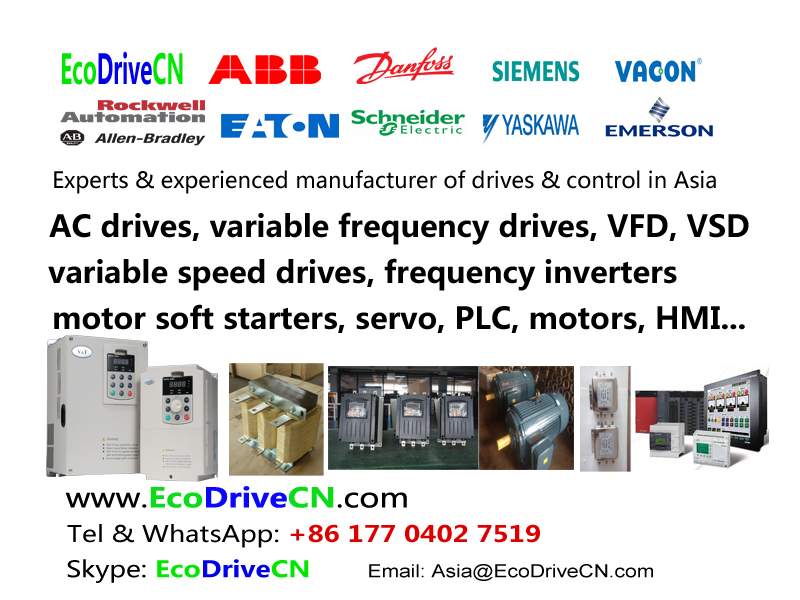 Medium voltage motors (3KV, 3.3KV, 6KV, 6.6KV, 10KV or 11kV) can benefit from soft starting with V&T EcoDriveCN® medium voltage motor soft starters. The benefits that come from eliminating starting transients, reducing locked rotor currents and providing smooth acceleration speak for themselves.
V&T EcoDriveCN® medium voltage motor soft starters design addresses safety with features that include segregation of circuits and the provision of an isolation and earth switch. A reliable design in a compact enclosure makes this the choice for starting motors in fixed speed applications.
In Asia, as the leading manufacturer & supplier of drive, control & power, V&T EcoDriveCN® drives have been present for years through business clients located in the most important countries in the region such as
China, Cyprus, Georgia, Iran, Iraq, Azerbaijan, Bahrain, Bangladesh, Bhutan, Brunei, Burma, Cambodia, Hong Kong, India, EcoDriveCN, Afghanistan, Armenia, Indonesia, Kyrgyzstan, Laos, Lebanon, Jordan, Kazakhstan, North Korea, South Korea, Kuwait, EcoDriveCN, Israel, Japan, Macau, Malaysia, Maldives, Mongolia, Nepal, Sri Lanka, Syria, Taiwan, Oman, Qatar, Saudi Arabia, Singapore, EcoDriveCN, Pakistan, Palestine, Philippines, Tajikistan, Thailand, Turkey, EcoDriveCN, Turkmenistan, United Arab Emirates, Uzbekistan, Vietnam, Yemen
.
Frequenzumrichter, variador de frecuencia, inversores de frequencia, Biến Tần, frekvencoregulilo, variateur de vitesse électrique, 可変電圧可変周波数制御, 가변 전압 가변 주파수 제어, frequentieregelaar, частотно-управляемый привод, ЧУП, inversor, frekvenčni pretvornik, Частотно-регульований привод, درایو فرکانس‌متغیر, محول تردد, மாறு-அதிர்வெண் ஓட்டி, micro drive, inverter drive, AC motor drives, adjustable speed drives, ASD, adjustable frequency drives, AFD, motor speed controller, motor controller.
ABB, Danfoss, EcoDriveCN, WEG, CG, Leroy Somer, EMERSON, Schneider, Control Techniques, CT, Watt Drive, LS, LG, Hyundai, Веспер, Vesper, CombiVario, Emotron, Invertek, IMO, Focus Dynamics, Eurotherm, Fenner, INTECNO, Iovatoelectric, SANTERNO, TDE MACNO, Fimet, ghisalba, Gefran, Parker, SSD, KB, LEESON, Rockwell Automation, Allen-Bradley, BISON, EATON, GE, BALDOR, Peter electronic, Baumueller, Beijer, V&T EcoDriveCN® drives, Bosch Rexroth, Siemens, NORD, SEW eurodrive, Vacon, AMK, Lenze, EcoDriveCN, KEB, Igel, Fuji, Meidensha, Panasonic, ToyoDenki, Sumitomo, Mitsubishi, Sanken, Hitachi, omron, Toshiba, Yaskawa, Power Electronics.
Except our own brand of drives and controls, V&T EcoDriveCN® drives also provide other famous brands, such as
Siemens, ABB, Schneider, Emerson Control Techniques, Danfoss, Yaskawa, Vacon, Lenze, Rockwell Automation Allen Bradley, Fuji, Toshiba, Omron, Mitsubishi, Hitachi, WEG, Bosch Rexroth, Parker, etc.