Not only a supplier of variable speed drives, VSD, variable frequency drives, VFD, frequency inverters, AC drive, power noise filters, du/dt filter, sinus filter, motor soft starters, servo, AC/DC reactors & brake unit, but also
a solution provider of industrial automation, energy saving & motor control in Cambodia
.
As the leader of drive, control & power in Cambodia, V&T EcoDriveCN® drives manufacture & supply motor soft starters: from 5.5kw to 20 000kw (7.5hp ~ 26,820HP), 200V to 13.8KV; vector control AC drives, frequency inverters with voltage of 200 V ~ 1140 V, with wide power class of 0.4 KW ~ 3550 KW (1/2 HP ~ 4735 HP), sinus filters, EMI filters, AC/AC reactors, offer solutions for motor control applications from low to medium voltage and from simple to complex.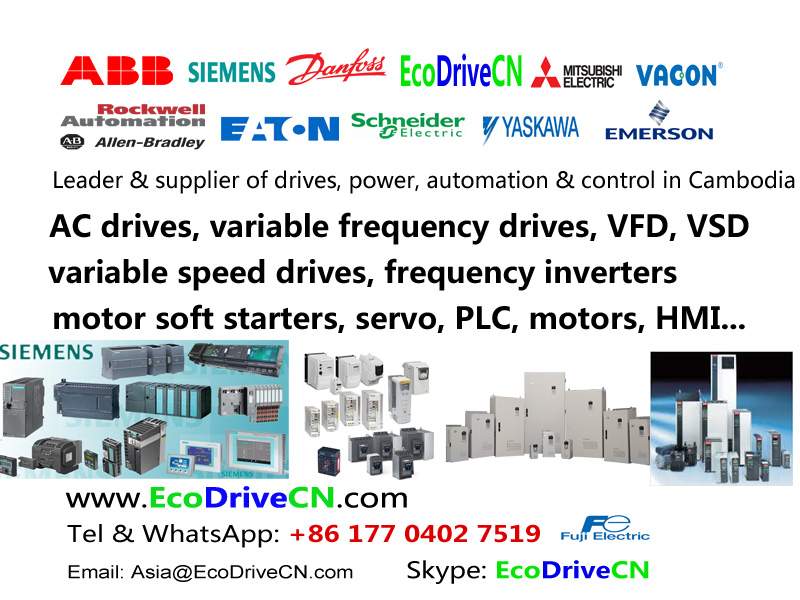 As the expert of power, drives & controls in Cambodia, with all motors controlled by the same V&T EcoDriveCN® drives , people can use the same user and system interfaces, the same extensions, the same proven, reliable technology over the entire power range. V&T EcoDriveCN® drives save commissioning time, reduce training costs, simplify maintenance activities.
V&T EcoDriveCN® 2,300V, 3,000V, 3,300V, 4,600V, 6,000V, 6,600V, 10,000V, 11,000V medium voltage motor soft starters are designed for soft start of high-voltage induction motors and synchronous motors, can be used for metallurgy, petroleum, chemical industry, mining, and power generation. V&T EcoDriveCN® MV motor soft starter can work with such mechanisms as fans, pumps, crushers, compressors, conveyors, chillers, etc.
The in-depth expertise of V&T EcoDriveCN® drives rely on in industries operating in harsh environments. V&T EcoDriveCN® robust drives designed for harsh conditions have a significantly longer, trouble-free lifetime. V&T EcoDriveCN® drives ensure the reliable operation of applications and optimize processes in industries with extreme temperatures, dust and moisture such as mining & minerals, pulp & paper, marine & offshore.
V&T EcoDriveCN® drives have also rich experiences for pumps, fans, conveyors, air compressors, crane & hoist, power generation, metallurgy, petroleum & petrochemical, mills, coal, water & waste water treatment, HVAC, construction materials...
With dedicated technical and commercial support for various market segments, V&T EcoDriveCN® drives provide local engineering resources committed to adapting and applying our products and technologies to best fit your needs, supply our customers a wide range of precision engineered AC Drives that can be customized as per client's requirements.
Frequenzumrichter, variador de frecuencia, inversores de frequencia, Biến Tần, frekvencoregulilo, variateur de vitesse électrique, 可変電圧可変周波数制御, 가변 전압 가변 주파수 제어, frequentieregelaar, частотно-управляемый привод, ЧУП, inversor, frekvenčni pretvornik, Частотно-регульований привод, درایو فرکانس‌متغیر, محول تردد, மாறு-அதிர்வெண் ஓட்டி, micro drive, inverter drive, AC motor drives, adjustable speed drives, ASD, adjustable frequency drives, AFD, motor speed controller, motor controller.
ABB, Danfoss, EcoDriveCN, WEG, CG, Leroy Somer, EMERSON, Schneider, Control Techniques, CT, Watt Drive, LS, LG, Hyundai, Веспер, Vesper, CombiVario, Emotron, Invertek, IMO, Focus Dynamics, Eurotherm, Fenner, INTECNO, Iovatoelectric, SANTERNO, TDE MACNO, Fimet, ghisalba, Gefran, Parker, SSD, KB, LEESON, Rockwell Automation, Allen-Bradley, BISON, EATON, GE, BALDOR, Peter electronic, Baumueller, Beijer, V&T EcoDriveCN® drives, Bosch Rexroth, Siemens, NORD, SEW eurodrive, Vacon, AMK, Lenze, EcoDriveCN, KEB, Igel, Fuji, Meidensha, Panasonic, ToyoDenki, Sumitomo, Mitsubishi, Sanken, Hitachi, omron, Toshiba, Yaskawa, Power Electronics.