ceramic braking resistors, wire-wound brake resistors
V&T EcoDriveCN® drives: the prominent supplier of wire wound power resistor, wire wound silicon coated resistors, wire wound resistors, precision wire wound resistors, electronic resistor, wire wound ceramic resistor, industrial shunt resistors, shunt resistors, breaking resistors and dynamic aluminium house braking resistors.
V&T EcoDriveCN® wire wound braking resistor is made of a ceramic tube with flat, waved alloy resistance wirewound on it.
V&T EcoDriveCN® dynamic braking resistor are available in smooth wound, wire wound or edge wound resistor coils, are suitable for a variety of applications or may be customized to meet the needs of specific applications.
Tested for quality, robustness andd performance, V&T EcoDriveCN® electrical silicon coated wire wound resistors are widely used many industries.
Application:
Simulation load testing, capacitor charging and discharging


Elevators, crane systems, overhead crane, lifting


Automation control, AC drive (inverter, VFD) braking, discharging


Steel mill, transit applications, neutral grounding


CNC, machine tools


General purpose electrical machinery, such as textile, food, beverage, sugar, printing, paper making, injection molding, extruder


Oil and gas


Other heavy duty industrial equipment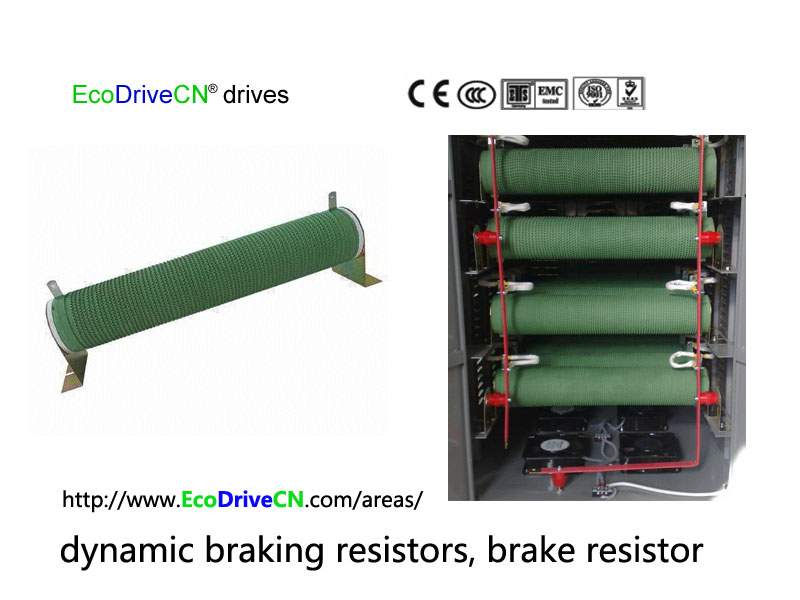 V&T EcoDriveCN® ceramic tube braking resistor is painted with a fireproof, heat-resistant coat with which wirewound resistor could be applied in high voltage applications for AC variable frequency drive brake, discharge of equipment, and automated control.
Visit
V&T EcoDriveCN® drives
Frequenzumrichter, variador de frecuencia, inversores de frequencia, Biến Tần, frekvencoregulilo, variateur de vitesse électrique, 可変電圧可変周波数制御, 가변 전압 가변 주파수 제어, frequentieregelaar, частотно-управляемый привод, ЧУП, inversor, frekvenčni pretvornik, Частотно-регульований привод, درایو فرکانس‌متغیر, محول تردد, மாறு-அதிர்வெண் ஓட்டி, micro drive, inverter drive, AC motor drives.
Photo Gallery |CE certificate |Superb components
© 2016 V&T All rights reserved.
Our Expertise Is Your Guarantee!
Reliable supplier of drive, control & power: 200V, 208V, 220V, 230V, 240V, 380V, 400V, 415V, 420V, 440V, 460V, 480V, 500V, 525V, 550V, 575V, 600V, 660V, 690V, 700V, 800V, 900V, 1000V, 1100V, 1140V, 1200V, 1300V, 2.3kV, 3kV, 3.3kV, 4.16kV, 5kV, 6kV, 6.6kV, 7.2kV, 10kV, 11kV, 13.8kV.