dynamic braking unit, brake choppers for AC variable speed drives
V&T EcoDriveCN® braking units (braking choppers) are used in the DC voltage intermediate circuits of AC variable frequency drives to control voltage when the load feeds energy back to the intermediate circuit.
The function of V&T EcoDriveCN® braking units is to divert into a dynamic braking resistor the regenerative energy produced in the process of decelerating the motor, converting that energy into heat. Regenerative energy flows from the motor into the drive/inverter DC Bus, manifested as increased bus voltage.
V&T EcoDriveCN® brake choppers are mainly used in AC drives system, which require fast deceleration, braking and positioning occasions, can improve braking performance and shorter deceleration time..
Suitable for all brands of AC drives (VFD, VSD, frequency inverters)


Can be applied for parallel operation with no capacity constraint


Can use average resistance, not necessary to be non-inductive resistance


Wide range voltages, suitable for AC variable frequency drives in different voltage rating


High reliability design


Long term high stability and wide compatibility


Many protection functions: short circuit, under-voltage, over-voltage, overcurrent, overheating etc


Conformity with CE, IEC, FCC


No configuration or commisioning required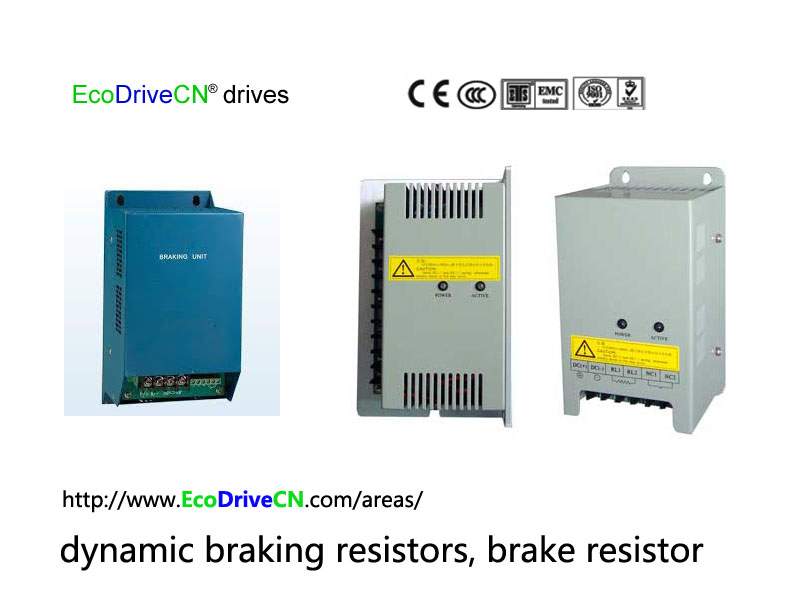 V&T EcoDriveCN® dynamic braking unit is particularly suitable for the applications where fast braking is required.
V&T EcoDriveCN® dynamic brake units applications: high inertia, or needs sharp deceleration, braking occasions, include centrifuges, steel mill, CNC, machine tools, washing machines, dryers, driving, elevators, cranes, mine hoist, textile machine, paper machinery, wire drawing machine, winder.
Visit
V&T EcoDriveCN® drives
Frequenzumrichter, variador de frecuencia, inversores de frequencia, Biến Tần, frekvencoregulilo, variateur de vitesse électrique, 可変電圧可変周波数制御, 가변 전압 가변 주파수 제어, frequentieregelaar, частотно-управляемый привод, ЧУП, inversor, frekvenčni pretvornik, Частотно-регульований привод, درایو فرکانس‌متغیر, محول تردد, மாறு-அதிர்வெண் ஓட்டி, micro drive, inverter drive, AC motor drives.
Photo Gallery |CE certificate |Superb components
© 2016 V&T All rights reserved.
Our Expertise Is Your Guarantee!
Reliable supplier of drive, control & power: 200V, 208V, 220V, 230V, 240V, 380V, 400V, 415V, 420V, 440V, 460V, 480V, 500V, 525V, 550V, 575V, 600V, 660V, 690V, 700V, 800V, 900V, 1000V, 1100V, 1140V, 1200V, 1300V, 2.3kV, 3kV, 3.3kV, 4.16kV, 5kV, 6kV, 6.6kV, 7.2kV, 10kV, 11kV, 13.8kV.