Not only a supplier of motor soft starters, variable speed drives, VSD, variable frequency drives, VFD, frequency inverters & other power electronics, but also
a solution provider of industrial automation, energy saving & motor control in Iran
.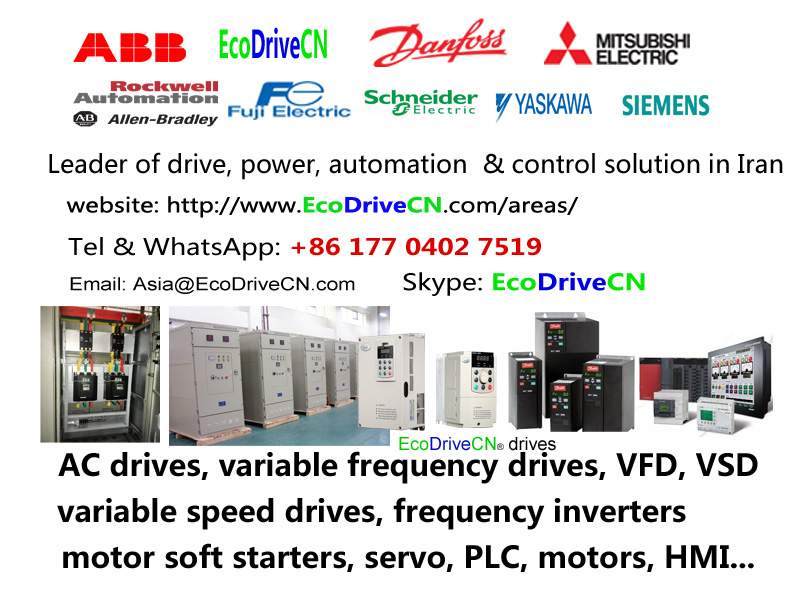 As the leading manufacturer of drive, control & power in Middle East, especially in Islamic Republic of Iran, V&T EcoDriveCN® drives provide vector control VFD drives, servo with the wide voltage of 200 Vac ~ 1140 Vac, and with wide power class of 0.4KW ~ 3550KW (1/2HP ~ 4735HP); motor soft starters: 200VAC ~ 15K VAC, 5KW ~ 20MW.
As the leading supplier of drive, control & power solution in Asia, especially in Iran, V&T EcoDriveCN® drives provide world-class solutions to the widest range of applications and industries.
1. Wide power and voltage ranges;


2. High performance motor control;


3. Easy to use;


4. Extendable through a large range of option modules;


5. Compact size;


6. Robust design for long and reliable service.


AC motor soft starters at V&T EcoDriveCN® drives
.
Your source for soft start motor starters, 3 phase soft starters, 400V motor soft start, 440v soft starters, 660V softstarters, 1000V motor start-starting regulator, low voltage starters, medium voltage motor soft starter control box with bypass, 10KV MV motor starters and other motor controls at discount prices in Asia.
V&T EcoDriveCN® 2.3 kV, 3 kV, 3.3 kV, 4.6 kV, 6 kV, 6.6 kV, 10 kV, 11 kV medium voltage motor soft starters are designed for soft start of high-voltage induction motors and synchronous motors, can be used for metallurgy, petroleum, chemical industry, mining, and power generation. V&T EcoDriveCN® MV motor soft starter can work with such mechanisms as fans, pumps, crushers, compressors, conveyors and others.
Visit more
V&T EcoDriveCN® drives in Asia
V&T EcoDriveCN® drives have been successful in catering to the requirements of our esteemed clients by offering quality drives & controls for extruder, compressors, centrifugal fans, pumps, paper machine, material handling, fans, pumps, gate control, conveyors, lathes, mills, plastic extrusion, slitter lines, food processing, waste water treatment systems, submersible pumps, HVAC fans and blowers...
As the premier manufacturer & supplier of drives & controls, except our own manufactured products, V&T EcoDriveCN® drives also provide other famous brands, such as
Siemens, ABB, Schneider, Emerson Control Techniques, Danfoss, Yaskawa, Vacon, Lenze, Rockwell Automation Allen Bradley, Fuji, Toshiba, Omron, Mitsubishi, Hitachi, WEG, Bosch Rexroth, Parker, etc.
Frequenzumrichter, variador de frecuencia, inversores de frequencia, Biến Tần, frekvencoregulilo, variateur de vitesse électrique, 可変電圧可変周波数制御, 가변 전압 가변 주파수 제어, frequentieregelaar, частотно-управляемый привод, ЧУП, inversor, frekvenčni pretvornik, Частотно-регульований привод, درایو فرکانس‌متغیر, محول تردد, மாறு-அதிர்வெண் ஓட்டி, micro drive, inverter drive, AC motor drives.