Not only a supplier of motor soft starters, VVVF, inverters, VFD, VSD, AC variable speed drives, EMI filters, AC/DC chokes, but also a provider of industrial automation, energy saving & motor control solution in Laos.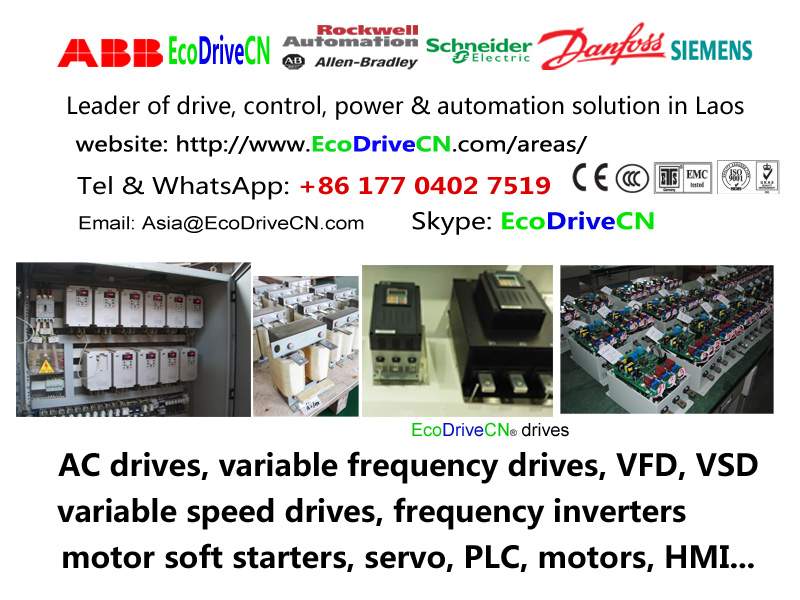 V&T EcoDriveCN® drives specialize in developing, marketing, and manufacturing high efficiency power electronic solutions and products, such as motor soft starters, AC drives, rectifiers, EMI filters, du/dt filters, AC/DC reactors.
As the leader of drive, control & power solution in Asia, especially in Laos, V&T EcoDriveCN® drives manufacture & supply low voltage & medium voltage motor soft starters: 5.5kw ~ 20 000kw (7.5hp ~ 26,820HP), 200VAC ~ 13.8KVAC, vector control variable speed drives, variable frequency drives, VSD, VFD, frequency inverters: 200 V ~ 1140 V, 0.4 KW ~ 3550 KW (1/2 HP ~ 4735 HP).
As the premier manufacturer & supplier of drives & controls in Southeast Asia (ASEAN), especially in Laos, V&T EcoDriveCN® drives satisfy all the standards and specifications of the European Union's 2006/95/EC directive on low-voltage equipment and the 2006/42/EG machinery directive. All products from V&T EcoDriveCN® drives have a CE certificate subject to 89/336/EEC.
All important protective functions are included as standard equipment, and all V&T EcoDriveCN® drives conform to both the ISO 9001 quality standard and the ISO 14001 environment standard.
As the leader in drive, power and control technologies and systems in Muang Lao, V&T EcoDriveCN® medium voltage motor soft starter has been designed and tested for use in the most demanding environments. With an easy and rugged user interface, V&T EcoDriveCN® MV soft start control system allows the user to configure the ultimate motor control and safety protections that will take care of your valuable rotating assets.
V&T EcoDriveCN® drives: sophisticated technology, easily adapted and simple installation.
As the expert of power, drives & controls in Lao People's Democratic Republic, V&T EcoDriveCN® drives cover a wide area, such as mining & minerals, oil & gas, power, steel & metal, cement, sugar, pulp & paper, water & waste water, rubber, plastic, lathe, milling machine, mixer, conveyor, belt grinder, drill press, fan, vibrating table, pump, extruder, coal transporters and machines.
Photo Gallery |CE certificate |Superb components
© 2016 V&T All rights reserved.
Our Expertise Is Your Guarantee!
Experts of drive, power, industrial automation & energy efficiency in Laos: 200V, 208V, 220V, 230V, 240V, 380V, 400V, 415V, 420V, 460V, 480V, 500V, 525V, 550V, 575V, 600V, 660V, 690V, 700V, 800V, 900V, 1000V, 1140V, 2.3 kV, 3 kV, 3.3 kV, 4.6 kV, 6 kV, 6.6 kV, 7.2 kV, 10 kV, 11 kV, 13.8 kV.