Empower your business with profitable efficiency through V&T EcoDriveCN® drives!
Not only a supplier of variable speed drives, VSD, variable frequency drives, VFD, frequency inverters, AC drive, power noise filters, du/dt filter, sinus filter, motor soft starters, servo, AC/DC reactors & brake unit, but also a solution provider of industrial automation, energy saving & motor control in Myanmar/Burma.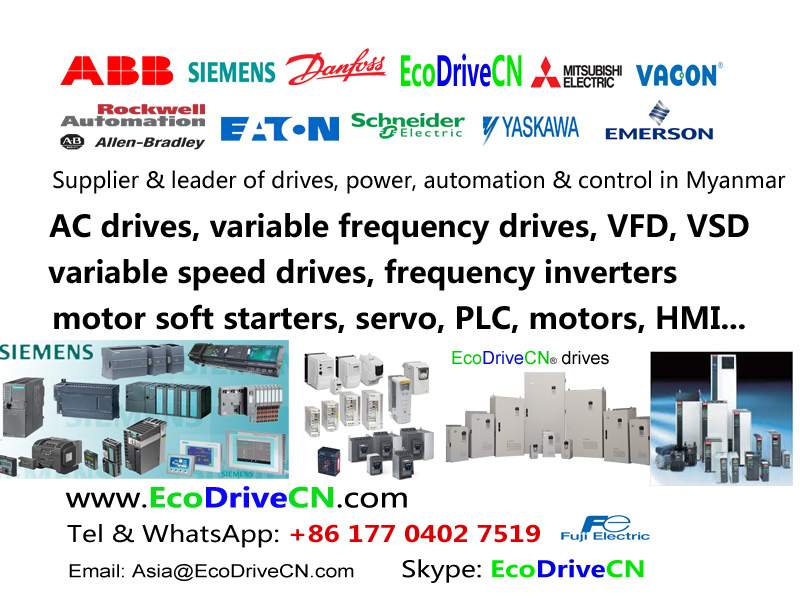 As the leading manufacturer & supplier of drive, control & power in Asia, especially in Myanmar/Burma, V&T EcoDriveCN® drives manufacture & provide a high level of flexibility, functionality and engineering comfort. V&T EcoDriveCN® drives cover all performance levels: from simple frequency converter tasks and coordinated drives through to motion control tasks, with wide voltage of 200 V ~ 1140 V, and wide power rating of 0.4 KW ~ 3550 KW (0.5 HP ~ 4735 HP).
As the leader of power, drives & controls in Myanmar/Burma, V&T EcoDriveCN® drives are empowering productivity and efficiency with robust performance. They provide flexibility to help you optimize your processes and control, and reliable for less downtime.
1. Wide power and voltage ranges;


2. High performance motor control;


3. Easy to use;


4. Extendable through a large range of option modules;


5. Compact size;


6. Robust design for long and reliable service.


V&T EcoDriveCN® motor soft starters will provide far better performance during a start, as well as during a stop.
V&T EcoDriveCN® motor soft starters eliminate high inrush current and damaging mechanical shock.
V&T EcoDriveCN® drives supply superior AC converters (frequency inverters, VSD, VFD), motor soft starters, servo for a aorld of applications, such as pumps, fans, conveyors, air compressors, crane & hoist, power generation, metallurgy, petroleum & petrochemical, mills, coal & mining, water & waste water treatment, HVAC, construction materials...
V&T EcoDriveCN® drives offer a broad range of control modes, features, options, and packaging, as well as global voltages and many power ratings. With a consistent programming structure and common operator interface, V&T EcoDriveCN® drives are featured with ease programming and configuration, thus reduce set-up time, training, and operation.