four quadrant variable frequency drives (regenerative AC drives)
As the leading manufacturer of drives, energy & controls solution, V&T EcoDriveCN® regenerative drives, which are also known as 4-quadrant inverters, incorporate an active supply rather than the passive diode supply used in conventional drives.
V&T EcoDriveCN® four quadrant variable frequency drives adopt the latest and most sophisticated motor control technology, use the energy regeneration of IGBT DC supply device, thus achieve the bi-directional control of rectifier energy feedback and the real four quadrant run.
V&T EcoDriveCN® regenerative drives are drives that operate in all 4 quadrants of power.
Easy operation, programming and maintenance


Robust construction


V/F control, vector control


Regenerative feedback(4-quadrant)


Low harmonics, sine wave current


Line voltage fluctuation compensation


Multidrive common bus solutions


Comprehensive motor protection package


Engineered to industry standards CE, IEC and CCC


Communication: Modbus, Profibus, CANopen


High-speed fiber-optic interface


V&T EcoDriveCN® regenerative variable frequency drive converts regenerative energy into reusable power and feeds it back to the mains, and allows the AC motor drive to operate in four quadrants to decrease power consumption.
Application of V&T EcoDriveCN® four quadrant AC variable speed drives: conveyor belt, oil and gas, food and beverage, harbor machinery, mine hoist, crane for lifting cargo, pour-into washing machine, pharmaceutical machinery, multi-motors applications, centrifugal casting machine, centrifuges, high inertia application, and metal processing machinery such as large punching machine.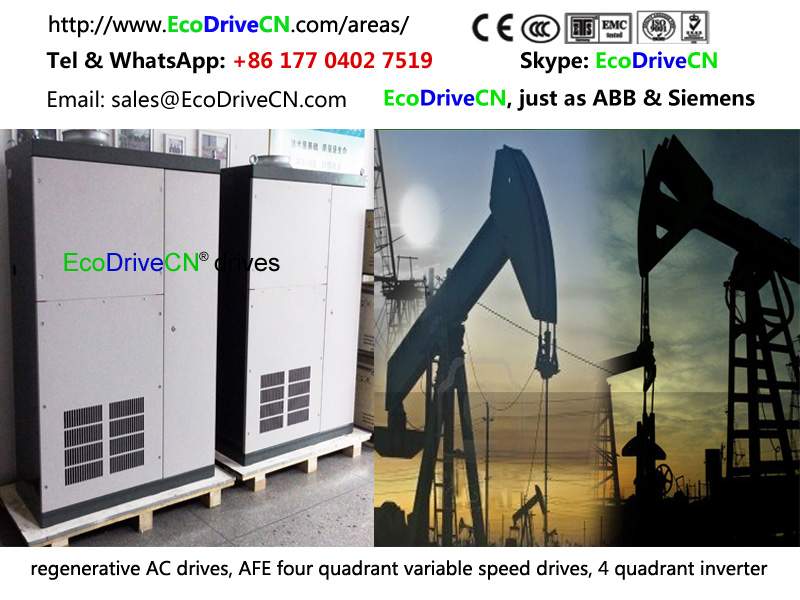 Visit
V&T EcoDriveCN® drives
Frequenzumrichter, variador de frecuencia, inversores de frequencia, Biến Tần, frekvencoregulilo, variateur de vitesse électrique, 可変電圧可変周波数制御, 가변 전압 가변 주파수 제어, frequentieregelaar, частотно-управляемый привод, ЧУП, inversor, frekvenčni pretvornik, Частотно-регульований привод, درایو فرکانس‌متغیر, محول تردد, மாறு-அதிர்வெண் ஓட்டி, micro drive, inverter drive, AC motor drives.
Photo Gallery |CE certificate |Superb components
© 2016 V&T All rights reserved.
Our Expertise Is Your Guarantee!
Reliable supplier of drive, control & power: 200V, 208V, 220V, 230V, 240V, 380V, 400V, 415V, 420V, 440V, 460V, 480V, 500V, 525V, 550V, 575V, 600V, 660V, 690V, 700V, 800V, 900V, 1000V, 1100V, 1140V, 1200V, 1300V, 2.3kV, 3kV, 3.3kV, 4.16kV, 5kV, 6kV, 6.6kV, 7.2kV, 10kV, 11kV, 13.8kV.