V&T EcoDriveCN® drives: Top 10 brands of drives & controls in South America, Latin America!
Lower Your Operating Costs with Variable Frequency Drives & Motor Soft Starters.
Email: South-America#EcoDriveCN.com (Please replace # with @)

Drive your overall equipment efficiencies higher with motor-centric solutions from
V&T EcoDriveCN® drives
.
As the leading manufacturer and supplier of drive, power and control, V&T EcoDriveCN® drives provide unmatched advantages on applications in the cement, mining and minerals industries: fans, pumps, grinding mills, kilns, crushers, conveyors, mine hoists, roller press.
Visit
V&T EcoDriveCN® drives in the Caribbean
Visit
V&T EcoDriveCN® drives in Central America
Visit
V&T EcoDriveCN® drives in Latin America
Visit
V&T EcoDriveCN® drives in North America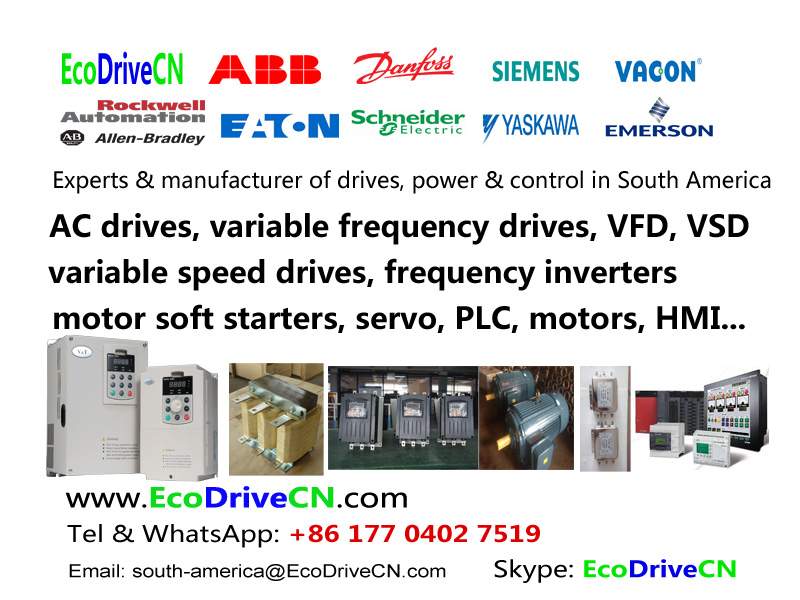 V&T EcoDriveCN® na América Latina
A V&T EcoDriveCN® é movida pela paixão de desenvolver, fabricar e vender os melhor conversor de frequência e inversores do mundo – e atender aos clientes com serviços eficientes.
Nossos conversores de frequência oferencem controle de processo otimizado e eficiência energética para motores elétricos. Os inversores V&T EcoDriveCN® possuem o papel principal quando a energia é produzida através de fontes renováveis.
Na América Latina, a V&T EcoDriveCN® está presente de negócios localizados nos mais importantes países da região como
Argentina, Chile, Peru, Ecuador, Colombia, Bolivia, Brazil, Venezuela
.
V&T EcoDriveCN® drives in Latin America, South America
In Latin America, being the industry experts of drives, control & power, V&T EcoDriveCN® drives have been present for years through business clients located in the most important countries in the region such as
Argentina, Chile, Peru, Colombia, Venezuela, Ecuador, Bolivia, Brazil
.
Frequenzumrichter, variador de frecuencia, inversores de frequencia, Biến Tần, frekvencoregulilo, variateur de vitesse électrique, 可変電圧可変周波数制御, 가변 전압 가변 주파수 제어, frequentieregelaar, частотно-управляемый привод, ЧУП, inversor, frekvenčni pretvornik, Частотно-регульований привод, درایو فرکانس‌متغیر, محول تردد, மாறு-அதிர்வெண் ஓட்டி, micro drive, inverter drive, AC motor drives, adjustable speed drives, ASD, adjustable frequency drives, AFD, motor speed controller, motor controller.
ABB, Danfoss, EcoDriveCN, WEG, CG, Leroy Somer, EMERSON, Schneider, Control Techniques, CT, Watt Drive, LS, LG, Hyundai, Веспер, Vesper, CombiVario, Emotron, Invertek, IMO, Focus Dynamics, Eurotherm, Fenner, INTECNO, Iovatoelectric, SANTERNO, TDE MACNO, Fimet, ghisalba, Gefran, Parker, SSD, KB, LEESON, Rockwell Automation, Allen-Bradley, BISON, EATON, GE, BALDOR, Peter electronic, Baumueller, Beijer, V&T EcoDriveCN® drives, Bosch Rexroth, Siemens, NORD, SEW eurodrive, Vacon, AMK, Lenze, EcoDriveCN, KEB, Igel, Fuji, Meidensha, Panasonic, ToyoDenki, Sumitomo, Mitsubishi, Sanken, Hitachi, omron, Toshiba, Yaskawa, Power Electronics.
Except our own brand of drives and controls, V&T EcoDriveCN® drives also provide other famous brands, such as
Siemens, ABB, Schneider, Emerson Control Techniques, Danfoss, Yaskawa, Vacon, Lenze, Rockwell Automation Allen Bradley, Fuji, Toshiba, Omron, Mitsubishi, Hitachi, WEG, Bosch Rexroth, Parker, etc.