500V, 525V, 550V, 575V, 600V vector control variable speed drives in mines and minerals
As the premier manufacturer & supplier of drives & controls, V&T EcoDriveCN® drives have been supplying robust, reliable & energy-efficient vector control variable frequency drives in mining industries.
Voltage range: 500VAC, 525VAC, 550VAC, 575VAC, 600VAC


Volts per Hertz, sensorless dynamic torque vector control


150% overload for 1 minute


Starting torque, heavy duty: 180% at 0.5 Hz (open loop), 180% at 0.0 Hz (closed loop)


Soft start capability


Improved pressure, flow, and motion control


Reduced energy consumption


Output frequency: 0.01 to 300Hz for heavy duty


Built-in or external braking transistor allows connection of external braking resistor for applications that require dynamic braking


Quick and easy commissioning


Modular construction allowing ease of maintenance


Integrated motor overload protection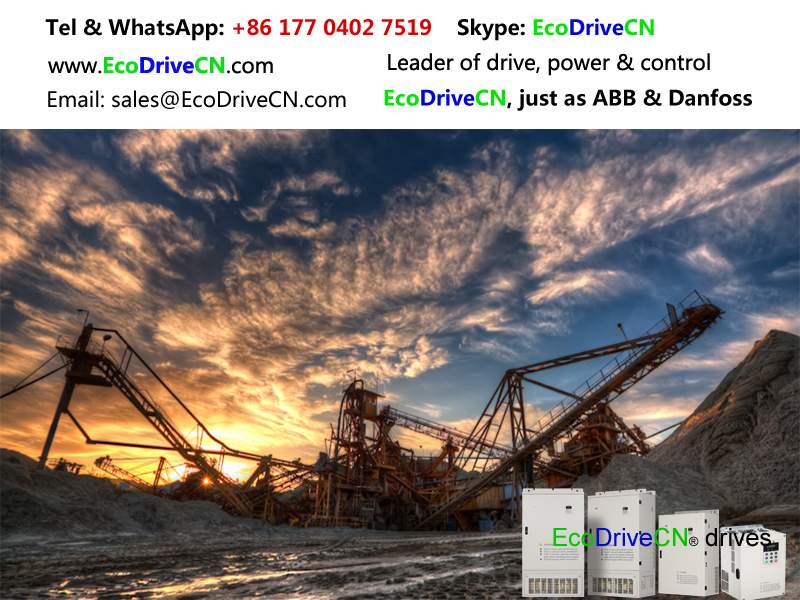 In the mining industry, V&T EcoDriveCN® drives have been quite useful. In fact, in many areas V&T EcoDriveCN® drives have been widely used as a means of starting large motors, ensure their smooth operation, and adjust the speed continuously as required by the process or machine utilized.
Various machines rely on AC drives from V&T EcoDriveCN® drives for optimum speed control and power including conveyors, pumps, fans, submersible pump, variable speed control of shearer traction, continuous miners, bolter miners, griding mills, hoists, underground dust ventilation.
Visit
V&T EcoDriveCN® drives
Frequenzumrichter, variador de frecuencia, inversores de frequencia, Biến Tần, frekvencoregulilo, variateur de vitesse électrique, 可変電圧可変周波数制御, 가변 전압 가변 주파수 제어, frequentieregelaar, частотно-управляемый привод, ЧУП, inversor, frekvenčni pretvornik, Частотно-регульований привод, درایو فرکانس‌متغیر, محول تردد, மாறு-அதிர்வெண் ஓட்டி, micro drive, inverter drive, AC motor drives.
Photo Gallery |CE certificate |Superb components
© 2016 V&T All rights reserved.
Our Expertise Is Your Guarantee!
Reliable supplier of drive, control & power: 200V, 208V, 220V, 230V, 240V, 380V, 400V, 415V, 420V, 440V, 460V, 480V, 500V, 525V, 550V, 575V, 600V, 660V, 690V, 700V, 800V, 900V, 1000V, 1100V, 1140V, 1200V, 1300V, 2.3kV, 3kV, 3.3kV, 4.16kV, 5kV, 6kV, 6.6kV, 7.2kV, 10kV, 11kV, 13.8kV.