As the leading manufacturer of drive, control & power, V&T Technologies Co., Ltd. EcoDriveCN® drives are sold, supported and serviced worldwide, with solutions from simple speed or torque control to complex coordinated process control.
Failure rate < 0.15%
, similar as
Siemens, ABB, Schneider, Emerson Control Techniques, Danfoss, Yaskawa, Vacon, Lenze, Rockwell Automation Allen Bradley (AB), Fuji, Toshiba, Omron, Mitsubishi, Hitachi, WEG, Bosch Rexroth and Parker.
V&T Technologies Co., Ltd. EcoDriveCN® drives provide precise, coordinated speed control, often among multiple motor axes, to ensure process line success.
Our Expertise & Experience Are Your Guarantee!
Some clients are using our drives although they were using ABB drives before.


Some clients are using our drives now because they want to use superior quality drives, similar as ABB.
Why don't choose us as those clients?
Not only a professional and best manufacturer for power electronics (explosion proof VFD, HazLoc VSD, flameproof motor soft starters, du/dt filters, sinus filters, brake resistors...), but also
a competitive and favorable solution provider of drives, power, control
.
business partners of V&T Technologies Co., Ltd. EcoDriveCN® drives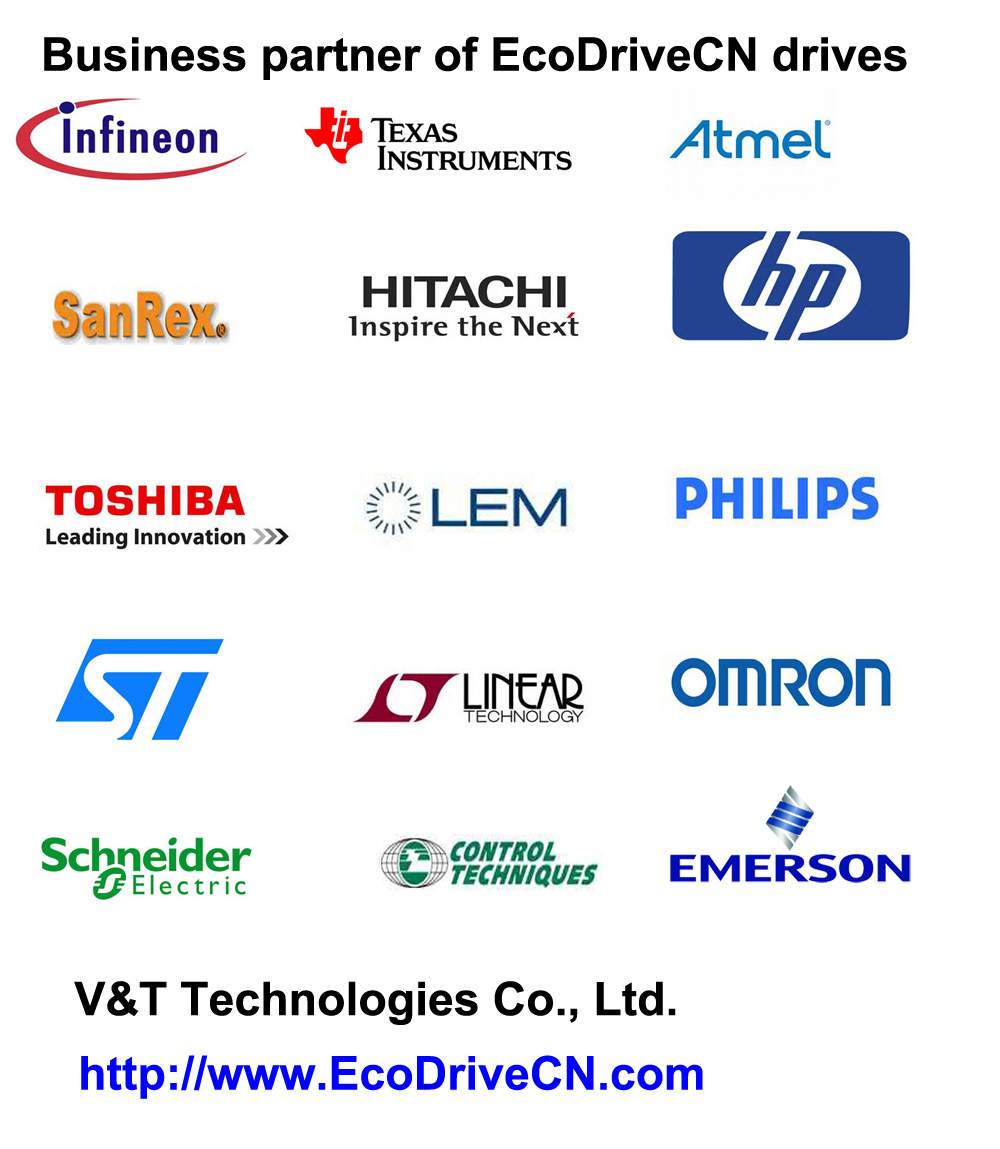 With strong R&D capability, V&T Technologies Co., Ltd. promises to bring our clients best explosion proof VSD, HazLoc VFD, explosionproof motor soft starters, AC frequency inverters (variable speed drives), servo drives, reactors (chokes), EMI filter, sine wave filter (sinus filter), du/dt filter, brake resistors, brake units and other power electronics to the clients.
Images of drives
Our competitive and favorable drives are used for motor control and energy saving, replacing many traditional brands, such as Siemens, Emerson Control Techniques, ABB, Eaton, Schneider, Allen Bradley, Lenze, Yaskawa, Mitsubishi, Fuji...
Voltage range: from 200VAC to 13.8KVAC (200V, 220V, 240V, 380V, 400V, 415V, 420V, 440V, 460V, 480V, 500V, 525V, 550V, 575V, 600V, 660V, 690V, 700V, 790V, 800V, 900V, 1000V, 1100V, 1140V, 3KV, 6KV, 10KV, 11KV...)
Power rating: from 0.4KW to more than 20MW (0.5 hp to 26,820 hp)
Applications: plastic injection molding machine, machine tools, air compressor, water supply, civil engineering, conveyor belt, wastewater treatment, extruder machines, fan and pump, HVAC, food and beverage industry, mining industry, oilfield...
we are supplying to many famous companies now, such as
REGAL, Ingersoll Rand, Foxconn, BYD, L.K. Group, Tata group
...
Let's work for you! Your company and your clients deserve best drives & power electronics from V&T Technologies Co., Ltd.
Don't let your competitors to win just because you hesitate!
Contact us
now to take advantage of this unique opportunity to be a real winner in the market!
benefits of cooperation