Our Clients and References
V&T EcoDriveCN® drives: Top 15 brands of drives & controls in the world, just as ABB, Danfoss & Siemens!
Not only a professional and best manufacturer for power electronics, but also
a competitive and favorable solution provider of drives, control and power
.
We work with many leading international companies in the field of motor control, motion control, energy saving and power electronics in the world.
We can customize to your needs, value your business, let you enjoy long-term profits, and earn the respect of your clients!
V&T Technologies Co., Ltd.
is proud of being the leading supplier for explosion proof VFD, explosionproof VSD, HazLoc softstarters, variable speed drives (frequency inverters, AC drives), low voltage and medium voltage motor soft starters, servo drives and other power electronics.
business partners of V&T Technologies Co., Ltd. EcoDriveCN® drives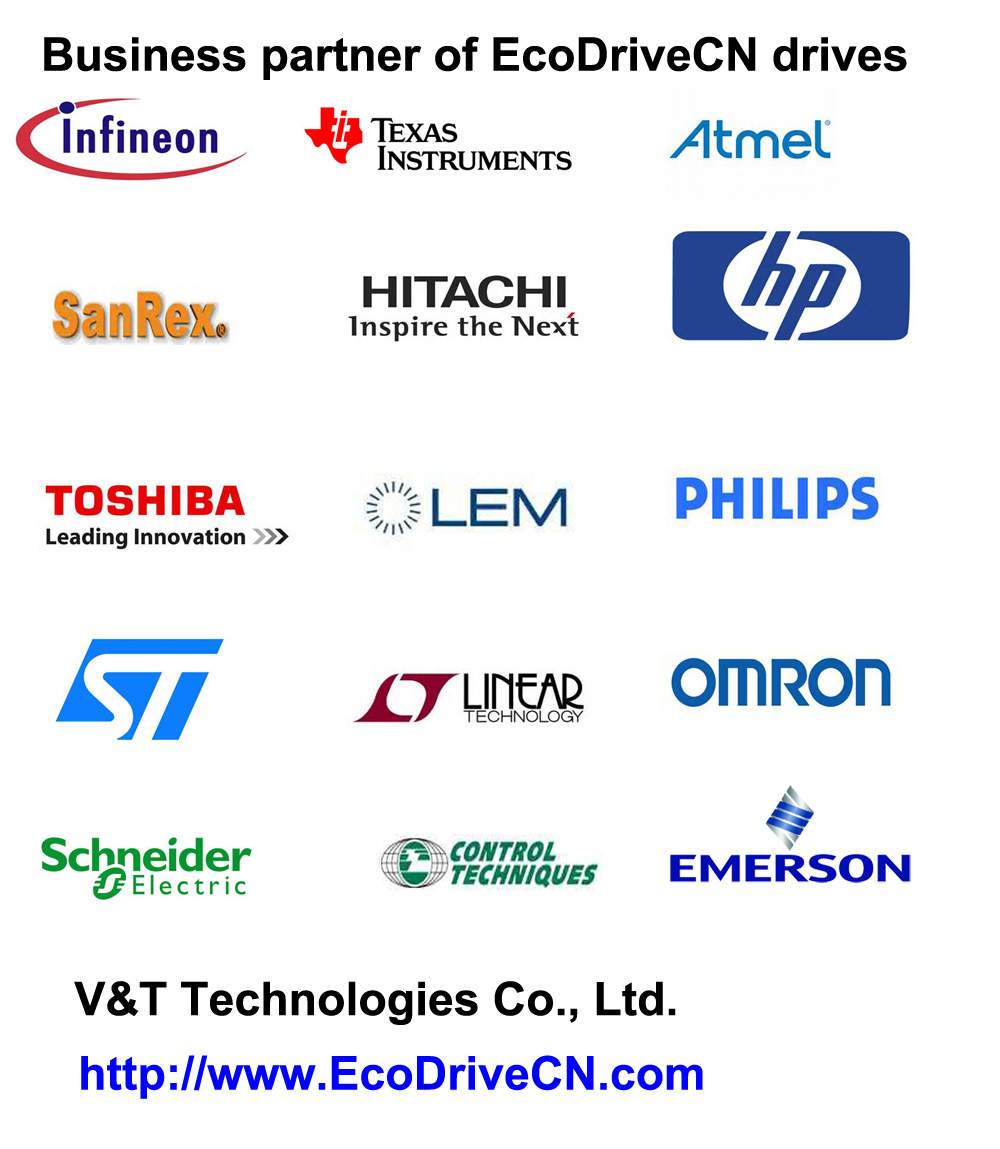 By working closely with each client,
whatever small or large
, we can naturally improve our products and services.
Our client's satisfaction is very important to us. You can find below a short sample in different countries.
References
1. Hon Hai (Foxconn), which is the largest multinational electronics contract manufacturing company in the world, is using our variable speed drives and servo drives with bulk quantity.
http://www.foxconn.com
Foxconn introduction on wikipedia
2. We cooperate with CMG (now REGAL), offering frequency inverters for mining.
They used Vacon before. Our frequency converters can meet their requirements and more competitive.
http://www.cmggroup.com.au
http://www.regalbeloit.com
3. Our electric vehicle drives are used in China High Speed Rail and BYD electirc vehicle.
In BYD Company Limited,
Warren Buffett
is one of its investor.
http://www.bydauto.com.cn/
4. Shenyang
machine tool
group. (Chinese No.1 machine tools manufacturer)
5. Kai Shan
Air Compressor
Co., Ltd.(No.1 air compressors factory in China)
6.
Ingersoll Rand
(Top 3 air compressor manufacturer in the world)
7. Guanxi Yangpu Nanhua
Sugar Industry
Group Co., Ltd. (Chinese No.1 sugar plant)
8. Shanghai Zhenhua Heavy Industry Co., Ltd.(The world largest
heavy equipments
manufacturer, such as cranes, lifts)
9. Taizhou Haishi Industry Washing Machine Co., Ltd.( No.1
industrial washing machines
factory)
10. Zhengzhou Yutong Group Co., Ltd. (The world largest bus factory)
11. DEC Dongfeng Electric Machinery Co., Ltd. (Chinese No.2 motor factory)
12. Airmate (Chinese No.1 electric fan plant)
13. Nuoxin NC Machine Tool Plant (Top supplier of machine tools factory)
14. Guangzhou Machine Tool Works Co., Ltd. (Top supplier of machine tools factory)
15. L.K. Group (Famous supplier of equipments for plastic injection, CNC, hot chamber, cold chamber, etc)
http://www.lktechnology.com/
16. Yizumi is a well-known Chinese machinery manufacturer mainly offering high-precision injection molding machines, high-quality die casting machines for aluminum and magnesium alloy and high-performance rubber injection machines.
http://www.yizumi-group.com.hk/
17.
Tata group
is an Indian multinational conglomerate company headquartered in Mumbai, Maharashtra, India. It comprises over 100 operating companies in seven business sectors: communications and information technology, engineering, materials, services, energy, consumer products and chemicals.
As the leading factory in China, we have rich experiences in this field and strong R&D capability, and have also offered OEM and ODM service to some famous brands of AC frequency inverters in the world. For business privacy, these brands are not listed here.
For detailed clients list for reference, just feel free to
contact us
.
The available voltage range: from 200V to 13KV, covering all the low voltage and medium voltage range, such as 200VAC, 220VAC, 240VAC, 380VAC, 400VAC, 415VAC, 420VAC, 440VAC, 460VAC, 480VAC, 525 VAC, 575VAC, 660VAC, 690VAC (690VAC - 790VAC), 1140VAC (960 VAC - 1300 VAC), 2.3 kV, 3 kV, 3.3 kV, 4.6 kV, 6 kV, 6.6 kV, 10 kV, 11 kV.
Power range: 0.4kw ~ 20MW
We understand how valuable your privacy is. So we won't offer your information to any clients without permission.
Some valuable advantages:
failure rate < 0.15%
, similar as Siemens, Emerson Control Techniques, ABB, Danfoss, Eaton, Schneider, Allen Bradley, Lenze, Yaskawa
Authorized CE certificate by
ECMG
, and ISO certifate
18-month
warranty period
Short delivery lead time
Some clients are using our drives although they were using ABB drives before.


Some clients are using our drives now because they want to use superior quality drives, similar as ABB.
Why don't choose us as those clients?
Except our own brand of drives and controls, we also provide other famous brands, such as
Siemens, ABB, Schneider, Emerson Control Techniques, Danfoss, Yaskawa, Vacon, Lenze, Rockwell Automation Allen Bradley, Fuji, Toshiba, Omron, Mitsubishi, Hitachi, WEG, Bosch Rexroth, Parker, etc.
Commitment to clients.