Not only a professional and best manufacturer for power electronics, but also
a competitive and favorable solution provider of drives
.
Some clients are using our drives although they were using ABB drives before.


Some clients are using our drives now because they want to use superior quality drives, similar as ABB.
Why don't choose us as those clients?
As the leading manufacturer of drive, control & power in Asia, V&T Technologies Co., Ltd. EcoDriveCN® drives promise to bring our clients the best explosion proof VSD, HazLoc VFD, explosion proof motor soft starters, AC frequency inverters (variable speed drives), servo drives and other power electronics (
Images show of drives in our factory
).
Since similar as Siemens, Emerson Control Techniques, ABB, Danfoss, Eaton, Schneider, Rockwell Allen Bradley, Lenze, Nord, Omron, Yaskawa, let's check comparison with other small or unfamous brands:
Failure rate:
ours: < 0.15%, similar as ABB, Schneider, Lenze, Siemens, Emerson, Yaskawa, Fuji.
other small brands: > 1.5%, even > 2%.

CE certificate:
Our CE certificate: issued by authorized party: ECMG.
Under the audit of NVLAP. NVLAP Lab code: 200068-0. ISO/IEC 07025:1999, ISO 9002:1994
other small brands: issued by the unknown party.

Business partner:
we are supplying to REGAL, Ingersoll Rand, Foxconn, BYD, L.K. Group, Tata group..., which is famous in the world or in the field.
other small brands: supply to some small projects, not supply stably to any famous companies

Superior quality AC drives & power electronics of V&T Technologies Co., Ltd., more favorable and attractive to the clients: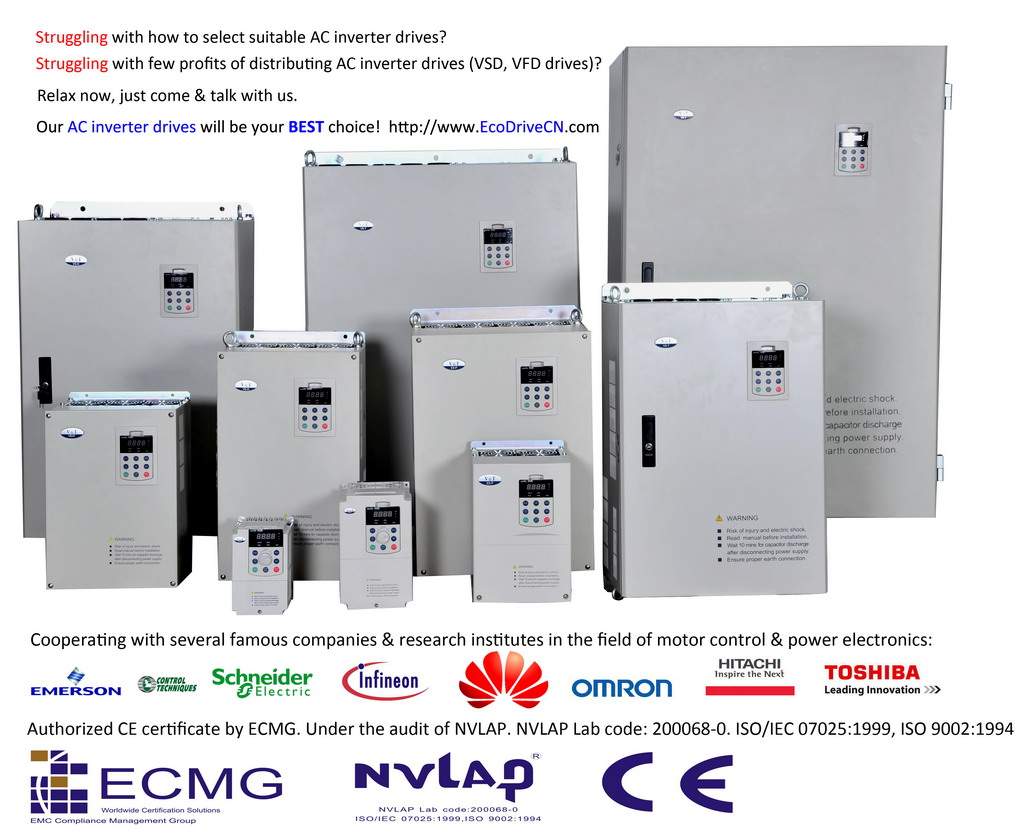 V&T Technologies Co., Ltd. is the recognized leader of energy efficiency retrofits of air compressors in the world, offer solutions of 20% to 60% energy saving for the compressed air system.

V&T Technologies Co., Ltd. is also the reputed leader of energy efficiency retrofits of plastic injection molding machines in the world, offer solutions of 25% - 70% energy saving for injection moulding machines.

The data sheet of comparison with some brands, such as Yaskawa, ABB and Schneider, is not presented on the website. If you are interested, just feel free to contact us for details.
The opportunity is here now. Don't hesitate to work with us together. If you don't contact us now, your competitors will do soon. And you will lose the market share, lose the competition.
If you were using the following brands before:
Siemens SINAMICS, old MicroMaster and LOHER DYNAVERT, ABB, Emerson Control Tecniques MEV and Unidrive M, Allen Bradley (AB) Powerflex, Omron, Schneider Electric Telemecanique, Fuji, Danfoss, Parker Hannifin (SSD Drives), Yaskawa, SEW Eurodrive, Mitsubishi, Lenze, Hitachi, Toshiba TOSVERT, Bosch Rexroth, WEG, GEFRAN SIEIDRIVE, Nord (NORDAC),
you can use our drives to replace them too.
Don't let your competitors to win just because you hesitate!
Contact us
now to take advantage of this unique opportunity to be a real winner in the market!
V&T EcoDriveCN® superior quality drives!
benefits of cooperation