Leader & supplier of drives, controls & automation in Gambia: motor soft starters, variable speed drives, VSD, frequency inverters, electrical automation, brake resistors, power line noise filters, AC/DC reactors, motor chokes, power electronics.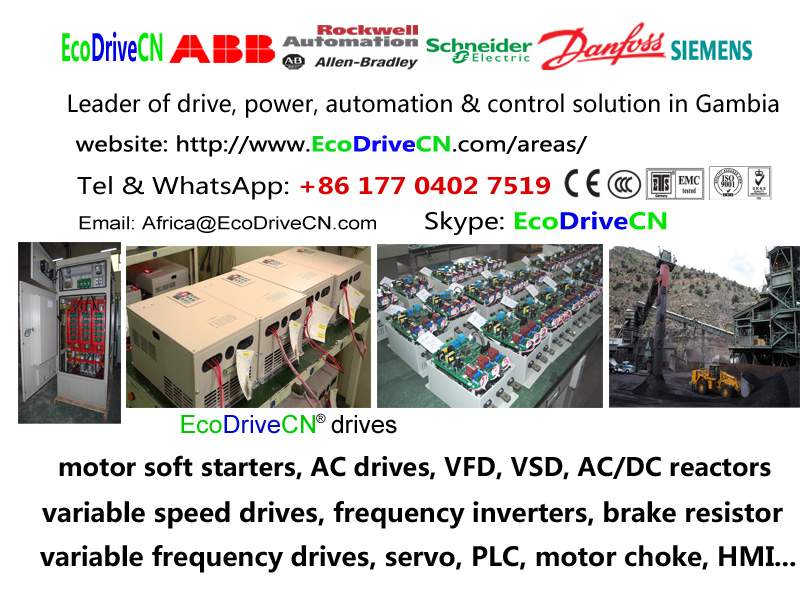 As the leading company of drive, control & power in Gambia, the power ratings of V&T EcoDriveCN® drives for the 220V, 400V, 440V, 460V, 480V, 575V, 690V, 1140V, 3kv, 6kv, 10kv configurations are: for motor soft starters: from 5.5kw to 20 000kw (7.5hp ~ 26,820HP); for AC drives (VFD, frequency inverters): from 0.4KW (1/2HP) ~ 3550KW (4735HP).
As the leader in drive, power and control technologies and systems in Africa, especially in Islamic Republic of The Gambia, V&T EcoDriveCN® medium voltage motor soft starters are an integrated solution for motor control and protection.
V&T EcoDriveCN® medium voltage motor soft starter feature advanced soft start and soft stop functionality with extensive motor and system protection, plus a user-friendly interface, can be used for metallurgy, fans, pumps, crushers, compressors, conveyors, petroleum, chemical industry, mining, and power generation.
Compact designs, common control architecture and generous I/O make V&T EcoDriveCN® drives ideal for retrofit solutions and integrated systems.
Frequenzumrichter, variador de frecuencia, inversores de frequencia, Biến Tần, frekvencoregulilo, variateur de vitesse électrique, 可変電圧可変周波数制御, 가변 전압 가변 주파수 제어, frequentieregelaar, частотно-управляемый привод, ЧУП, inversor, frekvenčni pretvornik, Частотно-регульований привод, درایو فرکانس‌متغیر, محول تردد, மாறு-அதிர்வெண் ஓட்டி, micro drive, inverter drive, AC motor drives.
Visit
V&T EcoDriveCN® drives in West Africa (Western Africa, the West of Africa)
Visit
V&T EcoDriveCN® drives in Africa
Photo Gallery |CE certificate |Superb components
© 2016 V&T All rights reserved.
Our Expertise Is Your Guarantee!
Experts & supplier of drive, control, industrial automation & energy efficiency in Gambia: 200V, 208V, 220V, 230V, 240V, 380V, 400V, 415V, 420V, 440V, 460V, 480V, 500V, 525V, 550V, 575V, 600V, 660V, 690V, 700V, 800V, 900V, 1000V, 1140V, 1300V, 2,3kV, 3kV, 3,3kV, 4,16kV, 5kV, 6kV, 6,6kV, 7,2kV, 10kV, 11kV, 13,8kV.