V&T EcoDriveCN® drives: First Choice Low Voltage & Medium Voltage Drive Systems for Variable Frequency and Motor Control Operation in Democratic Republic of the Congo (DR Congo).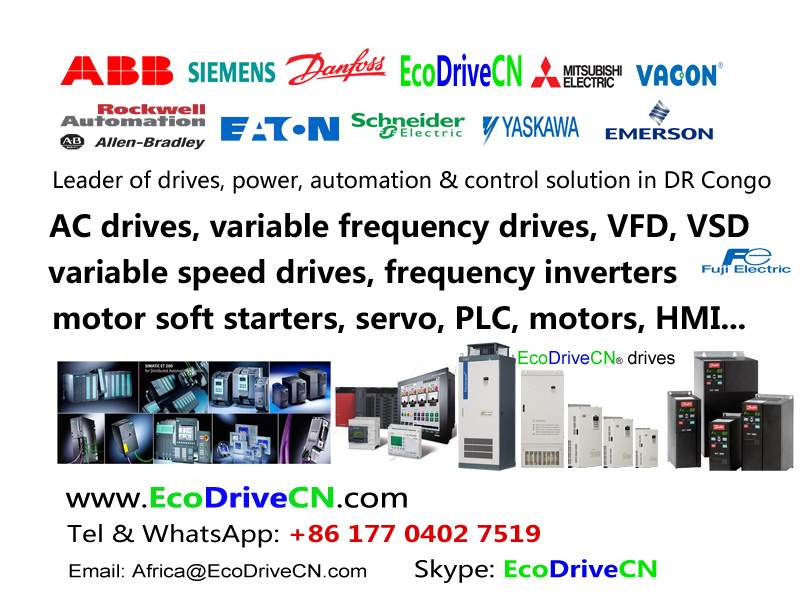 When you depend on an variable frequency drives and motor soft starters system, V&T EcoDriveCN® drives provide the excellence you can rely on.
V&T EcoDriveCN® drives provide an answer to your AC drives (frequency inverters, VSD) and motor soft starters requirements with our comprehensive product portfolio: the broadest and most inclusive in the manufacturing and processing industry, including low voltage AC variable speed drives, low voltage motor soft starter, medium voltage soft starters, and related drives, industrial automation & controls equipment.
Go back to check more
V&T EcoDriveCN® drives in Central Africa (Middle Africa)
As a leader in power and automation technologies in Congo-Kinshasa (DROC), EcoDriveCN' innovative design provides the outstanding AC drives & motor soft starters for every drive & control application.
V&T EcoDriveCN® drives include basic drives, dynamic servo drives for motion control to low voltage motor soft starters & medium voltage motor soft starters, plus tailored drives & controls solutions for different industries.
As the leader in drive, power and control technologies and systems, V&T EcoDriveCN® medium voltage motor soft starter is designed to start AC motors in any fixed speed application. It provides maximum protection while allowing smooth, stepless control of acceleration and deceleration.
V&T EcoDriveCN® medium voltage motor soft starters guarantee power control and protection for your most important assets.
V&T EcoDriveCN® 2.3 kV, 3 kV, 3.3 kV, 4.6 kV, 6 kV, 6.6 kV, 10 kV, 11 kV medium voltage motor soft starters are designed for soft start of high-voltage induction motors and synchronous motors, can be used for metallurgy, petroleum, chemical industry, mining, and power generation. V&T EcoDriveCN® MV motor soft starter can work with such mechanisms as fans, pumps, crushers, compressors, conveyors and others.
As the leading supplier of drive, power & control solution in DR Congo, V&T EcoDriveCN® drives have the passion for excellence, quality and innovative solutions in all of our operations in drive & control field, are proud to be one of the best in drive, control and power market.
As the premier manufacturer & supplier of drive, automation & control solution,
V&T EcoDriveCN® drives
have expert knowledge of a wide and diverse range of markets which include paper and pulp, converting, printing, material handling and forming, mining & minerals, oil & gas, power plant, steel & metal, cement, compressor control, pump and fan, test equipment, energy storage and conversion, medical and life science, water & sewage treatment, extruder, rubber, plastics industry, textile machinery, CNC machines, knitting machines.
Frequenzumrichter, variador de frecuencia, inversores de frequencia, Biến Tần, frekvencoregulilo, variateur de vitesse électrique, 可変電圧可変周波数制御, 가변 전압 가변 주파수 제어, frequentieregelaar, частотно-управляемый привод, ЧУП, inversor, frekvenčni pretvornik, Частотно-регульований привод, درایو فرکانس‌متغیر, محول تردد, மாறு-அதிர்வெண் ஓட்டி, micro drive, inverter drive, AC motor drives, adjustable speed drives, ASD, adjustable frequency drives, AFD, motor speed controller, motor controller.