As the reputed supplier in North America, especially in Dominican Republic, V&T EcoDriveCN® drives manufacture & offer a wide range of
motor soft starters
, AC variable frequency drives and power electronics to meet a wide array of applications from simple variable torque to more complex industrial applications such as fans, pumps, conveyors, HVAC, mining and minerals, food and beverage, crane and lifts, textile machinery, CNC machines, knitting machines, mixers and machine controls.
Through supplying low voltage variable frequency drives, motor soft starters and medium voltage motor soft starters, and other power electronics with outstanding performance and best quality, V&T EcoDriveCN® drives is always a successful player in the global marketplace calls for continuous improvement in productivity, energy efficiency and profitability.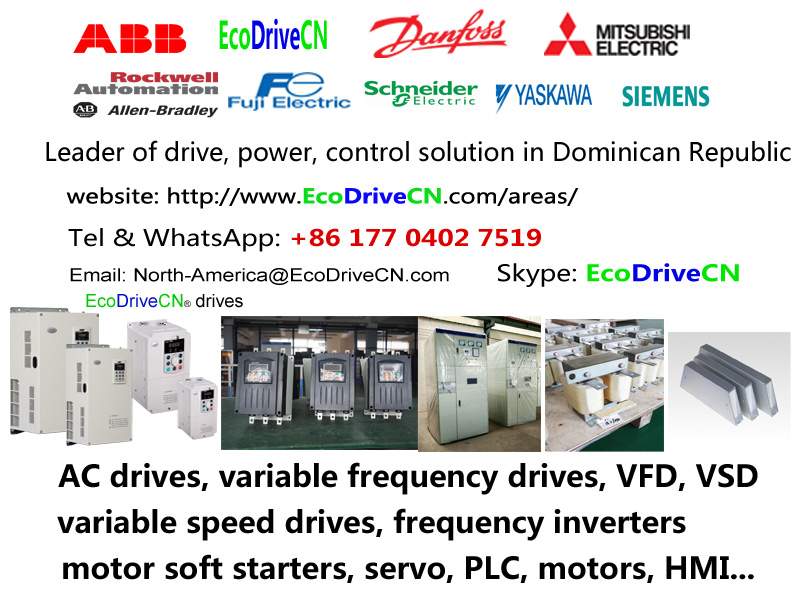 As the leading manufacturer & supplier of drive, energy & control in North America, especially in Dominican Republic,
V&T EcoDriveCN® drives
offer a complete solution to your AC motor control needs: low voltage & medium voltage motor soft starters, AC motor frequency inverters (variable speed drives, VSD, variable frequency drives, VFD), servo system, AC/DC line reactors, power line noise filters, du/dt filters, braking resistors, motor choke.
From motor soft starters to high performance vector control technology, V&T EcoDriveCN® drives supply outstanding performance products in with easy to use keyboards in North America.
As the leader of power, drive & control solution in Dominican Republic,
V&T EcoDriveCN® drives
start at fractional horse power (1/2HP, 0.4kw) and continue up to (26,820HP, 20,000KW) and are available in 200 VAC, 208 VAC, 220 VAC, 230 VAC, 240 VAC, 380 VAC, 400 VAC, 415 VAC, 420 VAC, 440 VAC, 460 VAC, 480 VAC, 500 VAC, 525 VAC, 550 VAC, 575 VAC, 600 VAC, 660 VAC, 690 VAC, 700 VAC, 800 VAC, 900 VAC, 1000 VAC, 1100 VAC, 1140 VAC, 1200 VAC, 2.3kVAC, 3kVAC, 3.3kVAC, 4.16kVAC, 5kVAC, 6kVAC, 6.6kVAC, 7.2kVAC, 10kVAC, 11kVAC, 13.8kVAC.
Advantages of V&T EcoDriveCN® drives:
1. Module design for strong capability.


2. Dynamic braking included.


3. Suitable for most types of AC motor.


4. Operation with or without feedback.


5. Compatible with a wide range of feedback options.


6. Conforms to international standards.


7. Ultra-compact drive dimension.


8. Low-maintenance ensures maximum machine availablilty, long lifetime and productivity.


9. Total flexibility for system integration.


Advanced algorithms of V&T EcoDriveCN® medium voltage motor controller cabinet ensure ultra-smooth starting and stopping, and fully adjustable protection features maximize electrical and mechanical protection for your motor and system.
V&T EcoDriveCN® medium voltage motor soft starters enable soft-starting and soft-stopping of AC motors with high power demands, help reduce energy costs, component count, maintenance and motor wear.
Applications for V&T EcoDriveCN® drives include knitting machine, screw air compressor, extruding machine, injection machine, braiding machine, pressure fan, forced draught blower, air blower, blowing machine, blow molding machine, root's blower, film blowing machine, cutter bar, cut-off machine, slitter, cutting machine, conveyor, water pump, grinder, cluster, glazing machine, polisher, polishing machine, laundry-drier, drying machine, ball crusher, ball grinding mill, drawing machine, spinning frame, spinning machine, cnc, machine tool, stretch yarn machine, winding machine, bobbin winder, cold-rolling mill, air conditioning, air conditioner, dividing and cutting machine, splitting machine, leather paring machine, gantry crane, grab bucket, ore winch, belt conveyor, industry washing machine, centrifuge, ball mill, ball grinder, blender , agitator, mixer, shaker, constant pressure water supply, sewage treatment, pressure die casting machine, rotary cutter, veneer peeling, peeler, engrave-milling machine, carving and milling machine, oil industry, mining industry, cement plant.
Go back to check more
V&T EcoDriveCN® drives in North America
Frequenzumrichter, variador de frecuencia, inversores de frequencia, Biến Tần, frekvencoregulilo, variateur de vitesse électrique, 可変電圧可変周波数制御, 가변 전압 가변 주파수 제어, frequentieregelaar, частотно-управляемый привод, ЧУП, inversor, frekvenčni pretvornik, Частотно-регульований привод, درایو فرکانس‌متغیر, محول تردد, மாறு-அதிர்வெண் ஓட்டி, micro drive, inverter drive, AC motor drives, adjustable speed drives, ASD, adjustable frequency drives, AFD, motor speed controller.