Not only a supplier for variable speed drives, VSD, variable frequency drives, VFD, EMI filters, du/dt filter, sinus filter, motor soft starters, servo, braking resistors, AC/DC reactors, motor chokes, brake unit & other power products, but also
a solution provider of industrial automation, energy saving & motor control in Finland
.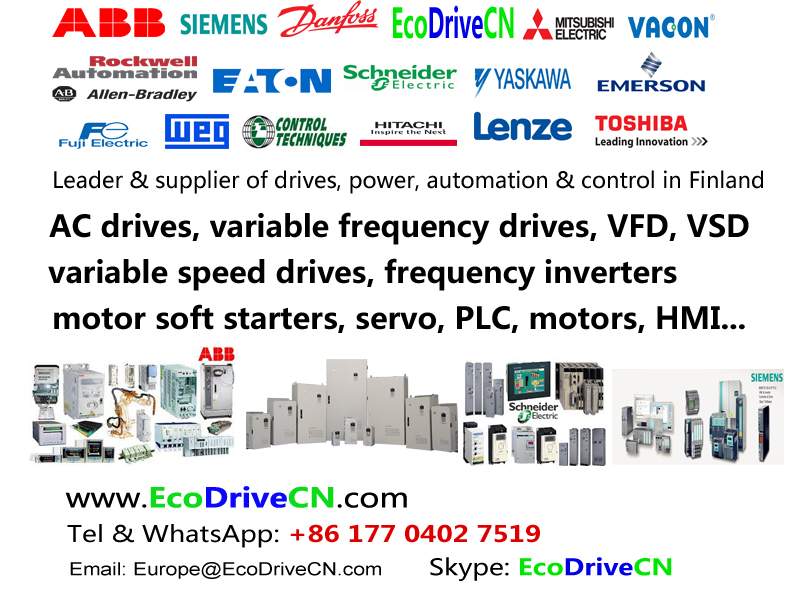 As the experts & leading manufacturer of drive, control, industrial automation & energy efficiency, features of V&T EcoDriveCN® drives include:
1. Compact design.


2. Integrated braking chopper from 0.75 kW to 15 kW.


3. Wide voltage range, advanced cooling design and coated PCBs increase robustness.


4. Easy to save money: typical energy savings of 25% to 70%.


5. Quick commissioning times.


6. Wide power range: motor soft start controller: 5.5kw ~ 20 000kw (7.5hp ~ 26,820HP); VFD: from 0.5 HP to 4735 HP (0.4KW ~ 3550KW).


7. Wide voltage: motor soft starters: 200VAC ~ 13.8KVAC; AC drives: 200 Vac ~ 1140 Vac.


Go back to check more
V&T EcoDriveCN® drives in Northern Europe
Visit
V&T EcoDriveCN® drives in Europe
V&T EcoDriveCN® cost-effective motor soft starters provide industry leading motor control, featuring constant current, current ramp and adaptive control start methods.
V&T EcoDriveCN® 2.3 kV, 3 kV, 3.3 kV, 4.6 kV, 6 kV, 6.6 kV, 10 kV, 11 kV medium voltage motor soft starters are designed for soft start of high-voltage induction motors and synchronous motors, can be used for metallurgy, petroleum, chemical industry, mining, and power generation. V&T EcoDriveCN® MV motor soft starter can work with such mechanisms as fans, pumps, crushers, compressors, conveyors and others.
As the leading manufacturer of drive, control & power, V&T EcoDriveCN® drives are used in a wide variety of industries, such as packaging machines, textile and printing machines, paper machines, plastics machines, machine tools, plants, process lines, rolling mills, crosscutters, centrifuges, rolling mill drives, wire-drawing machines, kneaders, cable railways and lifts, test stand drives, pumps, fans, compressors, mixers, extruders, crushers, rolling mill lines, mine hoist drives, excavators, test stands, ship's drives, conveyor belts, blast furnace blowers.
Frequenzumrichter, variador de frecuencia, inversores de frequencia, Biến Tần, frekvencoregulilo, variateur de vitesse électrique, 可変電圧可変周波数制御, 가변 전압 가변 주파수 제어, frequentieregelaar, частотно-управляемый привод, ЧУП, inversor, frekvenčni pretvornik, Частотно-регульований привод, درایو فرکانس‌متغیر, محول تردد, மாறு-அதிர்வெண் ஓட்டி, micro drive, inverter drive, AC motor drives, adjustable speed drives, ASD, adjustable frequency drives, AFD, motor speed controller.
As the premier manufacturer & supplier of drives & controls, except our own manufactured products, V&T EcoDriveCN® drives also provide other famous brands, such as
Siemens, ABB, Schneider, Emerson Control Techniques, Danfoss, Yaskawa, Vacon, Lenze, Rockwell Automation Allen Bradley, Fuji, Toshiba, Omron, Mitsubishi, Hitachi, WEG, Bosch Rexroth, Parker, etc.