Not only a leading supplier for variable speed drives, VSD, variable frequency drives, VFD, EMI filters, du/dt filter, sinus filter, motor soft starters, servo, braking resistors, motor chokes & other power products, but also
a competitive & favorable industrial automation solution provider in Iraq
.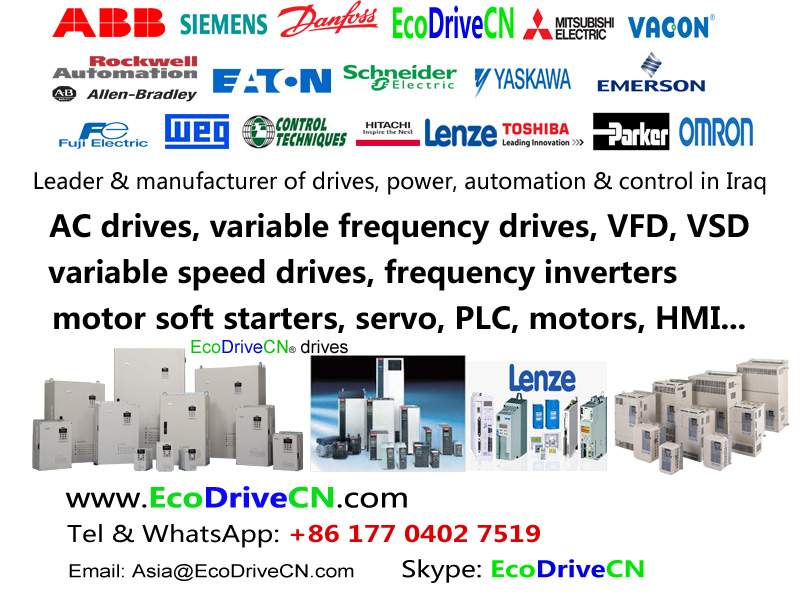 As an Asia leading and recognized brand of drive, control and power solution, V&T EcoDriveCN® variable speed drives and motor soft starters helps to optimize utility and industrial processes. V&T EcoDriveCN® variable speed drives (variable frequency drives, frequency inverters) reduce energy consumption and operation costs.
Ranging from 7.5-630 kW (10HP-900HP), 220-1200 VAC, V&T EcoDriveCN® low voltage motor soft starters are suitable for appliactions such as underground pumps, ventilation fans, conveyors and Compressors.
V&T EcoDriveCN® 2.3 kV, 3 kV, 3.3 kV, 4.6 kV, 6 kV, 6.6 kV, 10 kV, 11 kV medium voltage motor soft starters are designed for soft start of high-voltage induction motors and synchronous motors, can be used for metallurgy, petroleum, chemical industry, mining, and power generation. V&T EcoDriveCN® MV motor soft starter can work with such mechanisms as fans, pumps, crushers, compressors, conveyors and others.
V&T EcoDriveCN® drives help manufacturing and production organizations to improve the flexibility and efficiency of their operations through high quality industrial power electronics offerings that consistently deliver production uptime, throughput and cost savings benefits.
V&T EcoDriveCN® drives are supported by a dedicated team of distributors and experienced industry professionals with a singular focus on helping these organizations achieve operational excellence.
V&T EcoDriveCN® drives offer a comprehensive line of drive and motor control products and solutions that are designed to satisfy your needs, from the very simple fractional horsepower component to the large and complex multi-system drive architectures.
As the leading manufacturer of drive, control and power in Asia, especially in Iraq, V&T EcoDriveCN® drives are proud of supplying a wide range of drives and controls with high performance, superb efficiency and longer functional life, widely accepted by many clients in varied machinery like textile machinery, CNC machines, knitting machines and weaving and sizing machines.
Frequenzumrichter, variador de frecuencia, inversores de frequencia, Biến Tần, frekvencoregulilo, variateur de vitesse électrique, 可変電圧可変周波数制御, 가변 전압 가변 주파수 제어, frequentieregelaar, частотно-управляемый привод, ЧУП, inversor, frekvenčni pretvornik, Частотно-регульований привод, درایو فرکانس‌متغیر, محول تردد, மாறு-அதிர்வெண் ஓட்டி, micro drive, inverter drive, AC motor drives.