V&T EcoDriveCN® drives специализируется на разработке, производстве и внедрении преобразователей частоты для управления электроприводами переменного тока и является одним из мировых лидеров на рынке преобразовательной техники для комплексных систем автоматизации и энергосбережения.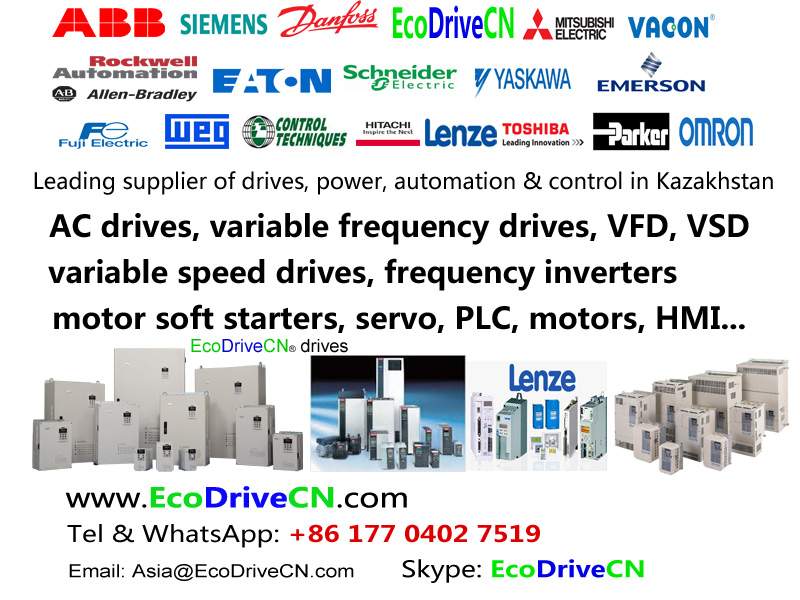 Not only a supplier of variable speed drives, VSD, variable frequency drives, VFD, frequency inverters, AC drive, power noise filters, du/dt filter, sinus filter, motor soft starters, servo, AC/DC reactors & brake unit, but also
a solution provider of industrial automation, energy saving & motor control in Kazakhstan
.
As the leading manufacturer & supplier of drive, control & power in Kazakhstan, V&T EcoDriveCN® drives manufacture & supply vector control variable frequency drives, servo, motor soft starters, offer solutions for motor control applications from low to medium voltage and from simple to complex.
As a professional supplier, V&T EcoDriveCN® motor soft starters can perform a soft stop, eliminating water hammering and pressure surges in pumping systems and avoiding damage to fragile material on conveyor belts.
As the leader of power, drives & controls in Kazakhstan, V&T EcoDriveCN® drives are empowering productivity and efficiency with robust performance. They provide flexibility to help you optimize your processes and control, and reliable for less downtime.
1. Wide power and voltage ranges;


2. High performance motor control;


3. Easy to use;


4. Extendable through a large range of option modules;


5. Compact size;


6. Robust design for long and reliable service.


Nowadays V&T EcoDriveCN® drives provide business in almost 90 countries in the whole world.
V&T EcoDriveCN® drives have been successful for pumps, motor control, conveyors, fans, winders, mixers, packaging machines, air compressors, cranes & lifts, extruders, and more...
V&T EcoDriveCN® drives offer a broad range of control modes, features, options, and packaging, as well as global voltages and many power ratings. With a consistent programming structure and common operator interface, V&T EcoDriveCN® drives are featured with ease programming and configuration, thus reduce set-up time, training, and operation.
As the premier manufacturer & supplier of drives & controls, except our own manufactured products, V&T EcoDriveCN® drives also provide other famous brands, such as
Siemens, ABB, Schneider, Emerson Control Techniques, Danfoss, Yaskawa, Vacon, Lenze, Rockwell Automation Allen Bradley, Fuji, Toshiba, Omron, Mitsubishi, Hitachi, WEG, Bosch Rexroth, Parker, etc.
Frequenzumrichter, variador de frecuencia, inversores de frequencia, Biến Tần, frekvencoregulilo, variateur de vitesse électrique, 可変電圧可変周波数制御, 가변 전압 가변 주파수 제어, frequentieregelaar, частотно-управляемый привод, ЧУП, inversor, frekvenčni pretvornik, Частотно-регульований привод, درایو فرکانس‌متغیر, محول تردد, மாறு-அதிர்வெண் ஓட்டி, micro drive, inverter drive, AC motor drives.