As the leading supplier in Africa, especially in Mauritania,
V&T EcoDriveCN® drives
manufacture and supply AC frequency inverters (variable speed drives, VSD, variable frequency drives, VFD), low voltage & medium voltage motor soft starters, AC/DC line reactors, power line noise filters, sine wave filters, brake resistors and motor choke, enable utility and industry customers to improve their performance while lowering environmental impact.
V&T EcoDriveCN® drives have a complete range of automation products especially selected to ensure the utmost reliability and offer solutions to all your problems in VSD (VFD), motor soft starters and motion control.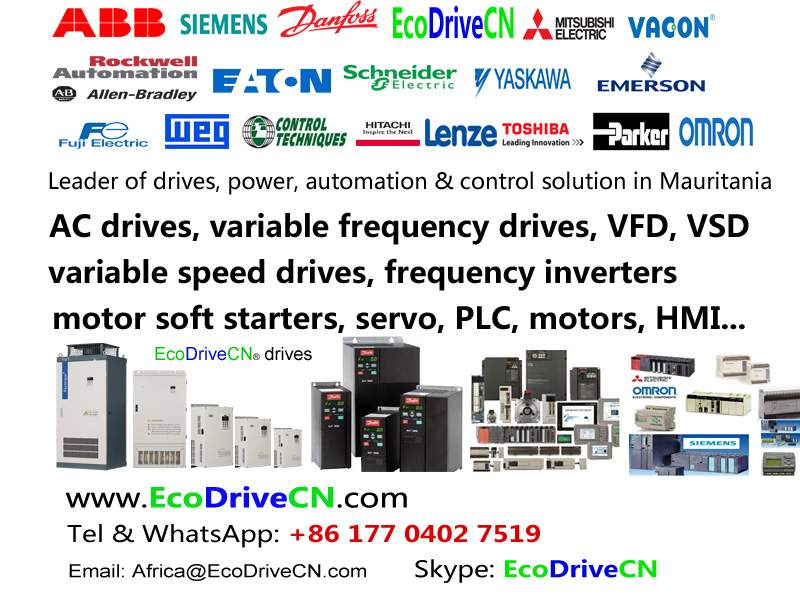 From motor soft starters to high performance vector control technology, V&T EcoDriveCN® drives supply outstanding performance products in with easy to use keyboards in Africa.
As the leader of power, drive & control solution in Mali,
V&T EcoDriveCN® drives
provide a wide range of voltage: 200 VAC, 208 VAC, 220 VAC, 230 VAC, 240 VAC, 380 VAC, 400 VAC, 415 VAC, 420 VAC, 440 VAC, 460 VAC, 480 VAC, 500 VAC, 525 VAC, 550 VAC, 575 VAC, 600 VAC, 660 VAC, 690 VAC, 700 VAC, 800 VAC, 900 VAC, 1000 VAC, 1100 VAC, 1140 VAC, 1200 VAC, 2.3kVAC, 3kVAC, 3.3kVAC, 4.16kVAC, 5kVAC, 6kVAC, 6.6kVAC, 7.2kVAC, 10kVAC, 11kVAC, 13.8kVAC.
Advantages of V&T EcoDriveCN® drives:
1. Module design for strong capability.


2. Dynamic braking included.


3. Suitable for most types of AC motor.


4. Operation with or without feedback.


5. Compatible with a wide range of feedback options.


6. Conforms to international standards.


7. Ultra-compact drive dimension.


8. Low-maintenance ensures maximum machine availablilty, long lifetime and productivity.


9. Total flexibility for system integration.


Applications for V&T EcoDriveCN® drives include plastics and rubber, extruders, calenders, injection moulding machines, winders and unwinders, blow moulding machines, printing, sheet-fed printing, label printing, web printing, bindery machines, paper & paperboard, film & foil converting, calendering, slitter, coating, sheeter, laminating, winders, material handling, cranes and winches, automatic storage, elevators, pick and place systems, conveyors, palletising, textile, knitting/weaving machines, needle punching machines, non-woven machines, fibre processing machines, spinning/speeder machines, textile coating machines, food and beverage, conveyors, mixers and extruders, rolling, pressing and cutting, stamping, slicing, bottling and labeling, packaging, woodworking machinery, plywood and chipboard industry, flying and rotary shear, packaging machinery, wire & cable drawing machines.
Go back to check more
V&T EcoDriveCN® drives in Africa
Frequenzumrichter, variador de frecuencia, inversores de frequencia, Biến Tần, frekvencoregulilo, variateur de vitesse électrique, 可変電圧可変周波数制御, 가변 전압 가변 주파수 제어, frequentieregelaar, частотно-управляемый привод, ЧУП, inversor, frekvenčni pretvornik, Частотно-регульований привод, درایو فرکانس‌متغیر, محول تردد, மாறு-அதிர்வெண் ஓட்டி, micro drive, inverter drive, AC motor drives, adjustable speed drives, ASD, adjustable frequency drives, AFD, motor speed controller.