Just the same as ABB & Siemens, as a leading manufacturer & provider of drive, power & control solutions in Africa, especially in Morocco, V&T EcoDriveCN® drives offer you:
1. A wide power and voltage range from 0.4 to 3550 kW (1/2HP ~ 4735HP), 200V to 1,300 V;


2. Advanced vector control for precise open and closed loop control;


3. Built-in safety & protection features for simplified configuration;


4. Communication with major automation networks;


5. Easy drive installation, commissioning and operation;


6. Optimized algorithm for energy efficiency;


7. Designed for easy service.


V&T EcoDriveCN® drives adjust a motor's speed to closely match output requirements, resulting in a typical energy savings of 20 to 75 percent.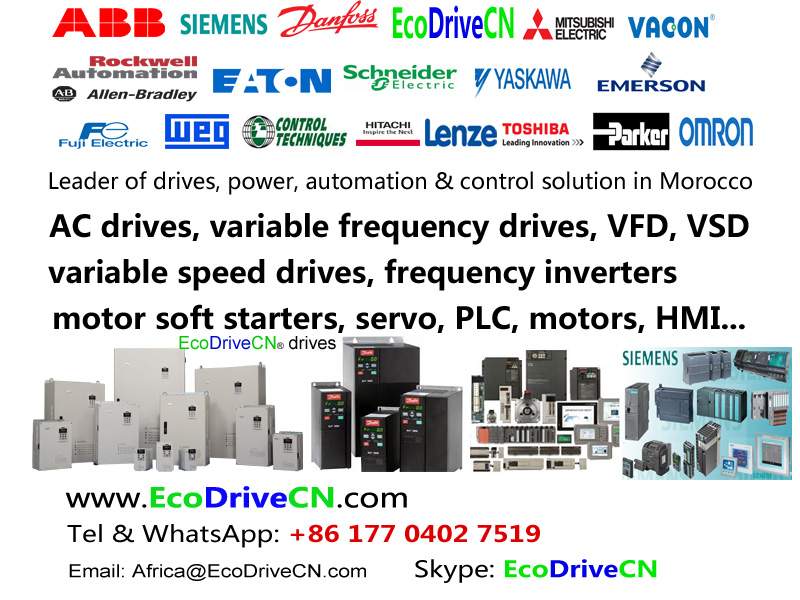 The combination of skilled staff, industry expertise and continually updated manufacturing methods and processes, in addition to high-tech R&D and laboratories, ensure that V&T EcoDriveCN® drives are suited to the widest range of applications and operating environments worldwide.
As the leader of power, drive & control solution in Morocco,
V&T EcoDriveCN® drives
provide a wide range of voltage: 200 VAC, 208 VAC, 220 VAC, 230 VAC, 240 VAC, 380 VAC, 400 VAC, 415 VAC, 420 VAC, 440 VAC, 460 VAC, 480 VAC, 500 VAC, 525 VAC, 550 VAC, 575 VAC, 600 VAC, 660 VAC, 690 VAC, 700 VAC, 800 VAC, 900 VAC, 1000 VAC, 1100 VAC, 1140 VAC, 1200 VAC.
V&T EcoDriveCN® drives are powerful, simple to use and incredibly reliable, win the good reputation in the challenging market while competing with other world-class companies, such as ABB, Siemens, Danfoss, Rockwell Automation Allen-Bradley, Emerson Control Techniques, Yaskawa and Schneider Electric.
Advantages of V&T EcoDriveCN® drives:
1. Module design for strong capability.


2. Dynamic braking included.


3. Suitable for most types of AC motor.


4. Operation with or without feedback.


5. Compatible with a wide range of feedback options.


6. Conforms to international standards.


7. Ultra-compact drive dimension.


8. Low-maintenance ensures maximum machine availablilty, long lifetime and productivity.


9. Total flexibility for system integration.


As the leading manufacturer & supplier of drive, power & control in Africa, especially in Morocco, V&T EcoDriveCN® drives are suited to the following applications:
1. Energy-saving pump and fan applications.


2. Extruders.


3. Mixers.


4. Centrifuges.


5. Hoists and cranes.


6. Hydraulic power units.


7. Engine dynamometers.


Go back to check more
variable speed drives and motor soft starters in Africa
Frequenzumrichter, variador de frecuencia, inversores de frequencia, Biến Tần, frekvencoregulilo, variateur de vitesse électrique, 可変電圧可変周波数制御, 가변 전압 가변 주파수 제어, frequentieregelaar, частотно-управляемый привод, ЧУП, inversor, frekvenčni pretvornik, Частотно-регульований привод, درایو فرکانس‌متغیر, محول تردد, மாறு-அதிர்வெண் ஓட்டி, micro drive, inverter drive, AC motor drives, adjustable speed drives, ASD, adjustable frequency drives, AFD, motor speed controller.