Not only a supplier of frequency converters, variable speed drives, VSD, variable frequency drives, VFD, EMI filters, du/dt filter, sinus filter, motor soft starters, servo, braking resistors, AC/DC reactors, motor chokes, brake unit & other power products, but also
a solution provider of industrial automation, energy saving & motor control in Norway
.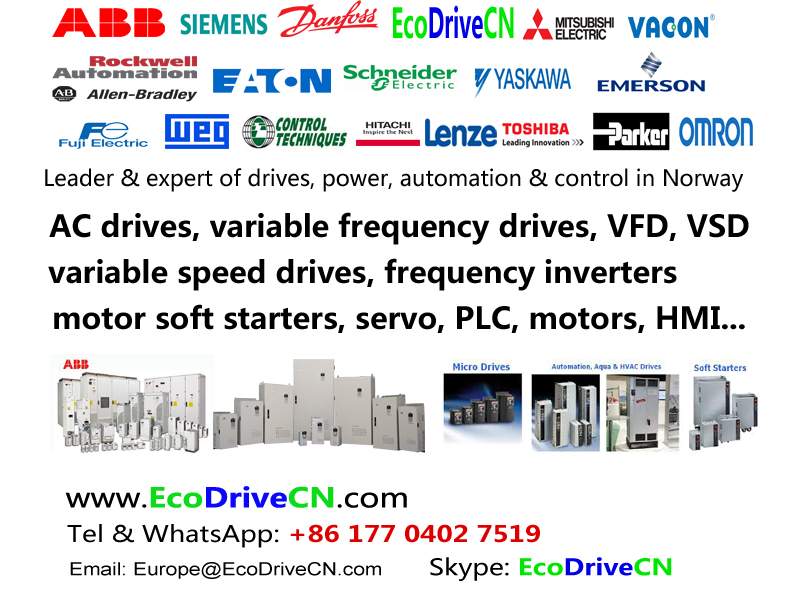 Combining your cutting-edge engineering know-how with the excellent latest drive technology and products from V&T EcoDriveCN® drives.
Go back to check more
V&T EcoDriveCN® drives in Northern Europe
As one superior & independent drives company, V&T EcoDriveCN® drives provide speed, torque and motion control for demanding applications. Being able to vary the speed and torque of an electric motor, and in turn the driven load by using an V&T EcoDriveCN® drive, brings benefits including:
1. Substantial energy savings.


2. Optimal process control.


3. Reduced need for maintenance.


4. Smaller carbon footprint through improved energy efficiency.


5. Sustainable development for people and the environment.


Compact and modern design utilising the latest available technology of V&T EcoDriveCN® drives has accumulated in robust drives with small dimensions and innovative mounting and cabling features.
As the leading manufacturer of drive, control & power, V&T EcoDriveCN® drives are playing a key role in different industries & machines: packaging machines, textile and printing machines, paper machines, plastics machines, machine tools, plants, process lines, rolling mills, crosscutters, centrifuges, rolling mill drives, wire-drawing machines, kneaders, cable railways and lifts, test stand drives, pumps, fans, compressors, mixers, extruders, crushers, rolling mill lines, mine hoist drives, excavators, test stands, ship's drives, conveyor belts, blast furnace blowers.