Global motor soft starters, VFD, inverters manufacturer - V&T EcoDriveCN® drives: rich & extensive experiences deploying drives & controls system, established name in the field of power and drives.

As the leader & famous manufacturer of drive, control & power in South Asia, V&T EcoDriveCN® drives manufacture & supply motor soft starters: 5.5kw ~ 20 000kw (7.5hp ~ 26,820HP), 200VAC ~ 13.8KVAC; AC variable frequency drives (VFD, VSD, frequency inverters), motor soft starters: 200 VAC ~ 1300 VAC, 0.4 KW ~ 3550 KW (1/2 HP ~ 4735 HP), with exceptional performance and advanced functions.
V&T EcoDriveCN® medium voltage motor soft starter is suitable for medium voltage motors. It reduces the voltage applied to the motor at start. As a consequence, motor current and torque is reduced for a smooth start.
This eliminates impacts of inrush current on the power supply and impacts of mechanical shocks on the load and the coupling. This helps in reducing maintenance of bearings, couplings, gear boxes, pulleys, belts and chains, in addition to protecting the motor.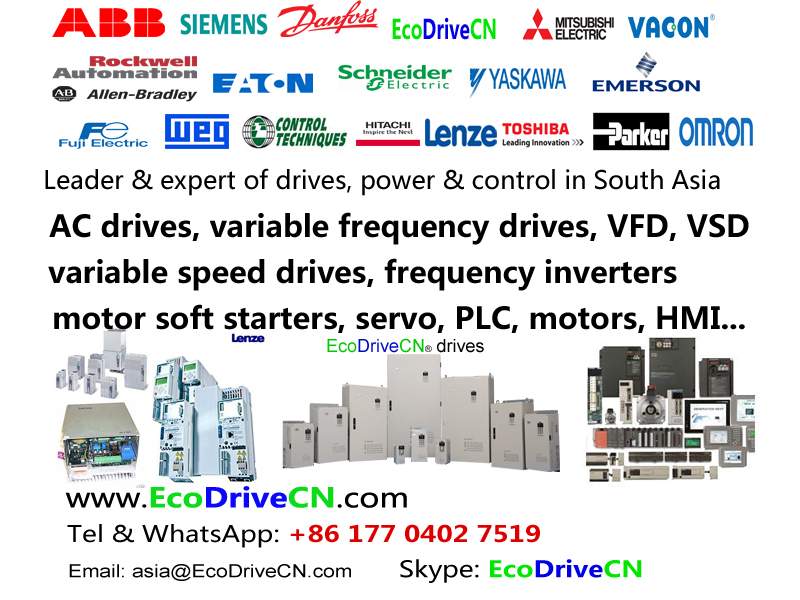 As a market innovator in both motors and drives worldwide, V&T EcoDriveCN® drives assists our customers in improving productivity and reducing energy consumption with a comprehensive range of AC drives and drive systems, are widely accepted in
South Asia, such as Afghanistan, India, Pakistan, Bangladesh, Sri Lanka, EcoDriveCN, Nepal, Bhutan and Maldives
.
Visit more
V&T EcoDriveCN® drives in Asia
Frequenzumrichter, variador de frecuencia, inversores de frequencia, Biến Tần, frekvencoregulilo, variateur de vitesse électrique, 可変電圧可変周波数制御, 가변 전압 가변 주파수 제어, frequentieregelaar, частотно-управляемый привод, ЧУП, inversor, frekvenčni pretvornik, Частотно-регульований привод, درایو فرکانس‌متغیر, محول تردد, மாறு-அதிர்வெண் ஓட்டி, micro drive, inverter drive, AC motor drives, adjustable speed drives, ASD, adjustable frequency drives, AFD, motor speed controller, motor controller.
ABB, Danfoss, EcoDriveCN, WEG, CG, Leroy Somer, EMERSON, Schneider, Control Techniques, CT, Watt Drive, LS, LG, Hyundai, Веспер, Vesper, CombiVario, Emotron, Invertek, IMO, Focus Dynamics, Eurotherm, Fenner, INTECNO, Iovatoelectric, SANTERNO, TDE MACNO, Fimet, ghisalba, Gefran, Parker, SSD, KB, LEESON, Rockwell Automation, Allen-Bradley, BISON, EATON, GE, BALDOR, Peter electronic, Baumueller, Beijer, V&T EcoDriveCN® drives, Bosch Rexroth, Siemens, NORD, SEW eurodrive, Vacon, AMK, Lenze, EcoDriveCN, KEB, Igel, Fuji, Meidensha, Panasonic, ToyoDenki, Sumitomo, Mitsubishi, Sanken, Hitachi, omron, Toshiba, Yaskawa, Power Electronics.
Except our own brand of drives and controls, V&T EcoDriveCN® drives also provide other famous brands, such as
Siemens, ABB, Schneider, Emerson Control Techniques, Danfoss, Yaskawa, Vacon, Lenze, Rockwell Automation Allen Bradley, Fuji, Toshiba, Omron, Mitsubishi, Hitachi, WEG, Bosch Rexroth, Parker, etc.