V&T EcoDriveCN® drives: Famous supplier with a product portfolio of power & drive systems in Southern Africa.

As the reputable manufacturer & supplier of drive, automation & power in Southern Africa, V&T EcoDriveCN® drives come in a wide range: motor soft starters: 5.5kw ~ 20 000kw (7.5hp ~ 26,820HP), 200VAC ~ 13.8KVAC; variable speed drives: from wall-mounted single drives to cabinet-built drives, with powers spanning from 0.4 kW to 3,550 kW (1/2 HP ~ 4,735 HP) and voltage range of 200 V to 1,300 V.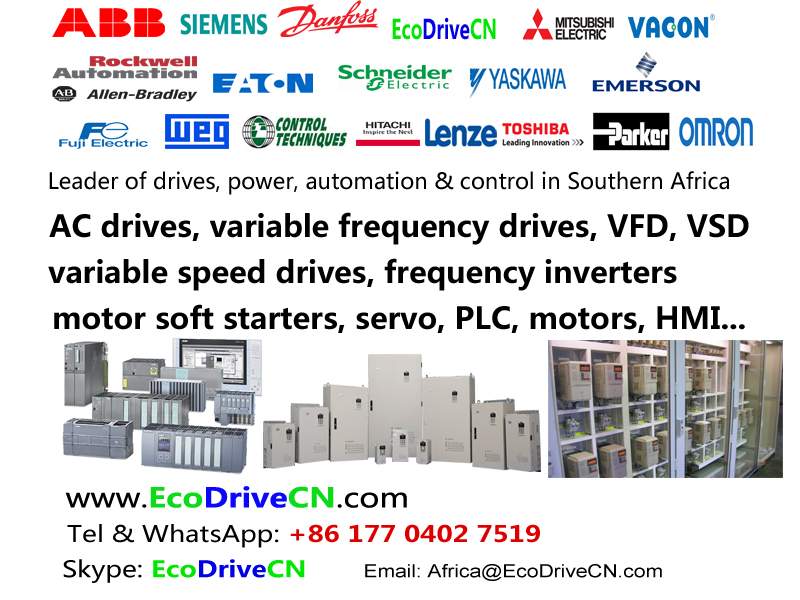 As the leader in Southern Africa with drive, power & control, V&T EcoDriveCN® drives take responsibility for every element of drives & controls products. The fact that we develop and produce our own features, hardware, software, power modules, printed circuit boards, and accessories is your guarantee of reliable drive & control products.
As a leading supplier with both motors and drives in Southern Africa, V&T EcoDriveCN® drives assist our customers in improving productivity and reducing energy consumption, are popularly used in
Angola, Botswana, Lesotho, Malawi, Mozambique, Namibia, South Africa, Swaziland, Zambia, and Zimbabwe
.
Frequenzumrichter, variador de frecuencia, inversores de frequencia, Biến Tần, frekvencoregulilo, variateur de vitesse électrique, 可変電圧可変周波数制御, 가변 전압 가변 주파수 제어, frequentieregelaar, частотно-управляемый привод, ЧУП, inversor, frekvenčni pretvornik, Частотно-регульований привод, درایو فرکانس‌متغیر, محول تردد, மாறு-அதிர்வெண் ஓட்டி, micro drive, inverter drive, AC motor drives, adjustable speed drives, ASD, adjustable frequency drives, AFD, motor speed controller, motor controller.
ABB, Danfoss, EcoDriveCN, WEG, CG, Leroy Somer, EMERSON, Schneider, Control Techniques, CT, Watt Drive, LS, LG, Hyundai, Веспер, Vesper, CombiVario, Emotron, Invertek, IMO, Focus Dynamics, Eurotherm, Fenner, INTECNO, Iovatoelectric, SANTERNO, TDE MACNO, Fimet, ghisalba, Gefran, Parker, SSD, KB, LEESON, Rockwell Automation, Allen-Bradley, BISON, EATON, GE, BALDOR, Peter electronic, Baumueller, Beijer, V&T EcoDriveCN® drives, Bosch Rexroth, Siemens, NORD, SEW eurodrive, Vacon, AMK, Lenze, EcoDriveCN, KEB, Igel, Fuji, Meidensha, Panasonic, ToyoDenki, Sumitomo, Mitsubishi, Sanken, Hitachi, omron, Toshiba, Yaskawa, Power Electronics.
Except our own brand of drives and controls, V&T EcoDriveCN® drives also provide other famous brands, such as
Siemens, ABB, Schneider, Emerson Control Techniques, Danfoss, Yaskawa, Vacon, Lenze, Rockwell Automation Allen Bradley, Fuji, Toshiba, Omron, Mitsubishi, Hitachi, WEG, Bosch Rexroth, Parker, etc.