Not only a supplier of drives, controls & power, but also a provider of electrical engineering, industrial automation, energy saving & motor control solution in Turkey.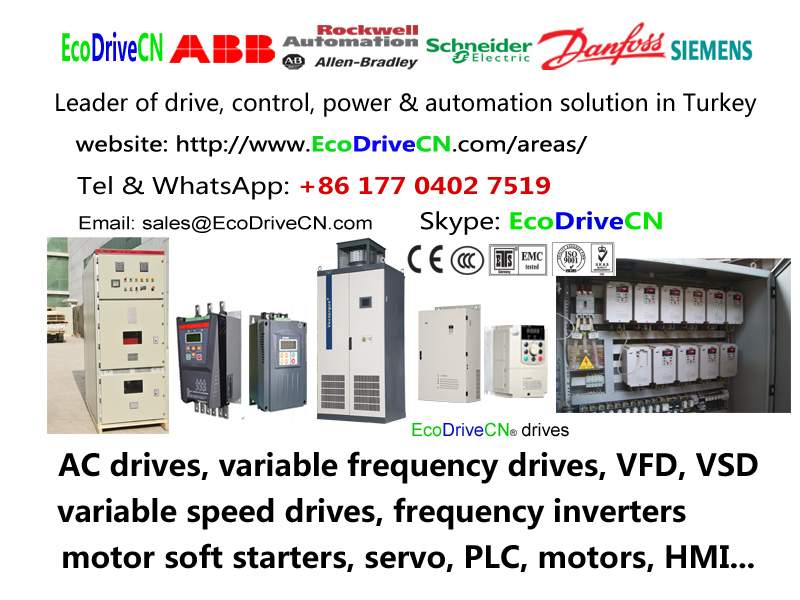 As the recognized brand of drive, control & power solution in Turkey, V&T EcoDriveCN® drives manufacture & supply
motor soft starters: 200VAC ~ 15K VAC, 5KW ~ 20MW
, vector control variable speed drives, variable frequency drives, VSD, VFD, frequency inverters: 200 V ~ 1140 V, 0.4 KW ~ 3550 KW (1/2 HP ~ 4735 HP), sine wave active filter, power line EMI/EMC/RFI filters, load filters and related products, offer solutions for motor control applications from low to medium voltage and from simple to complex.
And V&T EcoDriveCN® motor soft starters provide a wide range for motor control and protection in constant-speed applications.
V&T EcoDriveCN® 2.3 kV, 3 kV, 3.3 kV, 4.6 kV, 6 kV, 6.6 kV, 10 kV, 11 kV medium voltage motor soft starters are designed for soft start of high-voltage induction motors and synchronous motors, can be used for metallurgy, petroleum, chemical industry, mining, and power generation. V&T EcoDriveCN® MV motor soft starter can work with such mechanisms as fans, pumps, crushers, compressors, conveyors and others.
As the trusted leader in the field of drive and power technology in Turkey, V&T EcoDriveCN® drives are developed under special consideration of reliability, robustness and international standards, such as CE, Rohs, IEC.
Such innovative inverter and motor control components as the IGBT module, advanced sensorless vector control technology make V&T EcoDriveCN® drives the first choice for all your drives and motor control systems.
As the expert of power, drives & controls in Turkey, V&T EcoDriveCN® drives cover a wide area, such as mining & minerals, oil & gas, power, steel & metal, cement, sugar, pulp & paper, water & waste water, rubber, plastic & rubber, food & beverage, civil engineering, construction, HVAC, coal transporters and machines.
As the leader in Turkey of drives & controls, V&T EcoDriveCN® drives manufacture & supply AC variable speed drives & motor soft starters in the oil and gas industry, provide huge benefits for rod pumping unit and fluid transfer pumps for production, distribution and refining applications.
Controlling your applications with V&T EcoDriveCN® drives can save you energy, reduce your operating and maintenance cost.
Frequenzumrichter, variador de frecuencia, inversores de frequencia, Biến Tần, frekvencoregulilo, variateur de vitesse électrique, 可変電圧可変周波数制御, 가변 전압 가변 주파수 제어, frequentieregelaar, частотно-управляемый привод, ЧУП, inversor, frekvenčni pretvornik, Частотно-регульований привод, درایو فرکانس‌متغیر, محول تردد, மாறு-அதிர்வெண் ஓட்டி, micro drive, inverter drive, AC motor drives, adjustable speed drives, ASD, adjustable frequency drives, AFD, motor speed controller, motor controller.
Except our own brand of drives and controls, V&T EcoDriveCN® drives also provide other famous brands, such as
Siemens, ABB, Schneider, Emerson Control Techniques, Danfoss, Yaskawa, Vacon, Lenze, Rockwell Automation Allen Bradley, Fuji, Toshiba, Omron, Mitsubishi, Hitachi, WEG, Bosch Rexroth, Parker, etc.