V&T EcoDriveCN® drives is a leader in Venezuela for drives, energy and industrial automation solution, manufacture and supply vector control AC variable frequency drives (VFD, variador de frecuencia, AC drives), vehicle electric controller, low voltage and medium voltage motors soft starters.
EcoDriveCN's experienced drives & controls technical specialists keep your production running.
For motor soft starters: 5.5kw ~ 20 000kw (7.5HP ~ 26,820HP), 200V ~ 13.8KV.
For AC variable frequency drives (VFD), voltage range: 200 VAC, 208 VAC, 220 VAC, 230 VAC, 240 VAC, 380 VAC, 400 VAC, 415 VAC, 420 VAC, 440 VAC, 460 VAC, 480 VAC, 500 VAC, 525 VAC, 550 VAC, 575 VAC, 600 VAC, 660 VAC, 690 VAC, 700 VAC, 800 VAC, 900 VAC, 1000 VAC, 1100 VAC, 1140 VAC, 1200 VAC.
Power range: 0.4KW ~ 3550KW (1/2HP ~ 4735HP).
Features of
V&T EcoDriveCN® drives
:
1. Torque control, flux vector control and v/f control;


2. Intelligent auto-tuning and automatic slip compensation for outstanding speed stability;


3. Advanced PWM function to reduce motor noise;


4. V&T EcoDriveCN® patented technology for maximum energy savings;


5. Active current limiting (tripless operation);


6. Automatic restart after power failures;


7. Flexible control units and simple configuration and setup.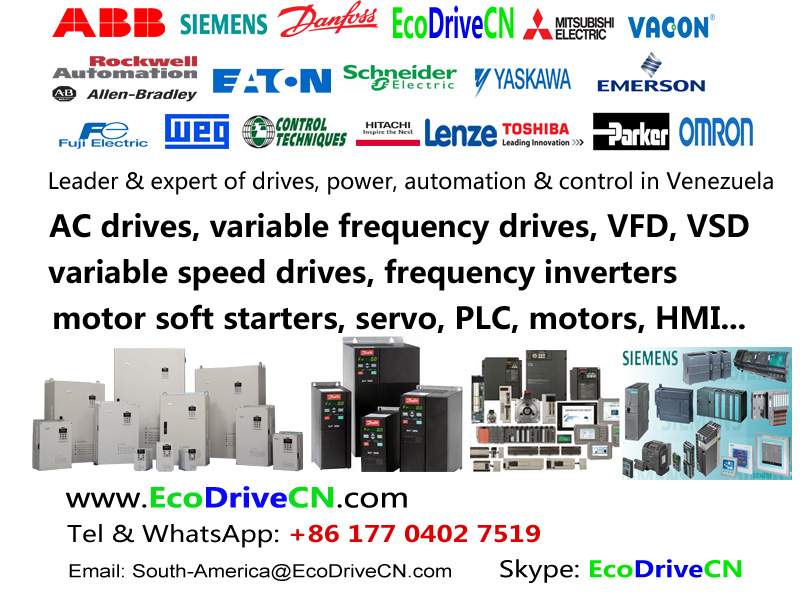 As the experts and leader of drive and power solution in South America, especially in Venezuela, V&T EcoDriveCN® drives deliver high performance frequency inverters that offer automatically controlled motor operations and operating speeds for a wide variety of motor control applications.
As the top brand of power, drives & controls in Venezuela, V&T EcoDriveCN® drives provide excellent solution for fans, pumps, compressors, air handling unit, chiller, HVAC, mining & minerals, oil & gas, power plant, steel & metal, cement, sugar, pulp & paper, water & waste water treatment, rubber, extrusion machines, plastic injection molding machine, CNC, lathe, spindle motor, food & beverage, coal transporters.
Go back to check more
V&T EcoDriveCN® drives in South America
Frequenzumrichter, variador de frecuencia, inversores de frequencia, Biến Tần, frekvencoregulilo, variateur de vitesse électrique, 可変電圧可変周波数制御, 가변 전압 가변 주파수 제어, frequentieregelaar, частотно-управляемый привод, ЧУП, inversor, frekvenčni pretvornik, Частотно-регульований привод, درایو فرکانس‌متغیر, محول تردد, மாறு-அதிர்வெண் ஓட்டி, micro drive, inverter drive, AC motor drives, adjustable speed drives, ASD, adjustable frequency drives, AFD, motor speed controller.