V&T EcoDriveCN® drives: Award of top ten drives enterprises in China
January 11, 2011, for China's electrical industry, will be a very significant day. Electrical network is sponsored by the HC, guided and supported by China Electrical Equipment Industrial Association and the China Electrotechnical Society of electrical energy special comity. The "2010 China Electric Industry Top Ten Award" ceremony will be held in Beijing Diaoyutai State Guesthouse.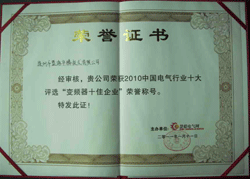 As the top manufacturer of explosion proof motor soft starters, HazLoc VFD, explosionproof VSD, AC inverters (drives), servo systems and other power electronics, and with advanced technology of vector control and torque control,
Shenzhen V&T Technologies Co., Ltd.
won the award of top ten inverter (drive) enterprises in China.
Some attractive factors:
failure rate < 0.15%, as Emerson Control Techniques, ABB, Danfoss, Eaton, Schneider, Yaskawa
authorized CE certificate by ECMG
18-month warranty period
prompt delivery lead time: 1-3 days
supply to REGAL, Ingersoll Rand, Foxconn, Tata group, BYD...
Details of this award: http://info.electric.hc360.com/2011/01/112135306985.shtml
Visit more news from V&T Technologies Co., Ltd. V&T EcoDriveCN® drives