V6-H-M1 closed loop vector control variable frequency drives (VFDs) with servo function
V&T EcoDriveCN® V6 series superior quality torque control inverter (variable frequency drive)
Has the motor the encoder?
Do you want to control the motor and machine precisely?
Do you want to achieve
vector control closed loop control
with V6-H-M1 frequency changers?
Thus you need to add PG card for V&T EcoDriveCN® closed loop field-oriented control frequency converter. several models of PG cards are available for your application. Just visit to choose
suitable PG cards
now.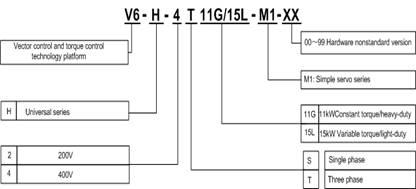 V6-H-M1-4T90G Three-phase 400V VFDs for Constant torque/heavy-duty application
Power(KW)
0.75
1.5
2.2
3.7
5.5
7.5
11
15
18.5
22
30
37
45
55
75
Motor Power(KW)
0.75
1.5
2.2
3.7
5.5
7.5
11
15
18.5
22
30
37
45
55
75
Output
Voltage(V)
Three-phase 0V to rated input voltage
Rate current(A)
2.5
3.8
5.5
9
13
17
24
30
39
45
60
75
91
112
150
Overload
capability
150% 1 minute, 180% 10 seconds, 200% 0.5 second, interval: 10 minutes (inverse time lag feature)
Input
Rated
voltage/frequency
Three-phase 380V/480V; 50Hz/60Hz
Allowable voltage range
323V ~ 528V; Voltage unbalancedness <= 3%; allowable frequency fluctuation: +-5%
Rate current(A)
3.5
6.2
9.2
14.9
21.5
27.9
39
50.3
60
69.3
86
104
124
150
201
Braking unit
Built-in as standard
Built-in as option
Protection class
IP20 (IP65 optional)
Cooling mode
Self-cooling
Forced air convection cooling