As the leading factory in the industry, AC variable frequency drives, motor soft starters, explosion proof VFD, HazLoc VSD, explosionproof motor softstarters... of V&T Technologies Co., Ltd. EcoDriveCN® drives are certificated by CE.

The CE certification is issued according to EMC 89/336/EEC & LVD 2006/95/EC. Test report numbers are VTT-0706-6367-CE, and VTT-0706-6367-SAFETY.

Our CE certificate is issued by EMC Compliance Management Group (ECMG), which provides world wide certification solution.

We are under the audit of NVLAP. NVLAP Lab code: 200068-0. ISO/IEC 07025:1999, ISO 9002:1994.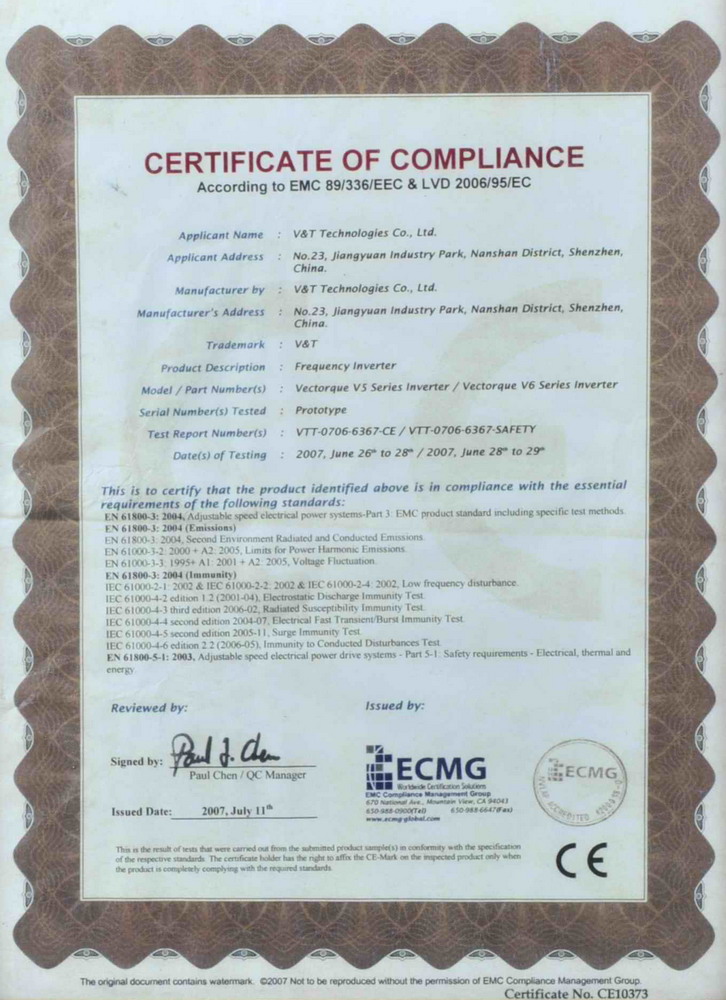 Some valuable advantages:
failure rate < 0.15%, similar as Siemens, Emerson Control Techniques, ABB, Danfoss, Eaton, Schneider, Allen Bradley, Lenze, Yaskawa, Mitsubishi, Fuji, Omron
18-month warranty period
delivery lead time: 1-3 days
supply to REGAL, Ingersoll Rand, Foxconn, BYD, L.K. Group, Tata group...

benefits of cooperating with us

Test standards of VSDs, servodrives, inverters, other power electronics products